[The title of this post is supposed to be read in the voice of Henchman 21 from The Venture Brothers. But it's fine the regular way too.]
I used to have a Google alert on myself. You know, because of all the reviews and blogs and whatnot. Then I got rid of my Google alert. Because of all the reviews and blogs and whatnot.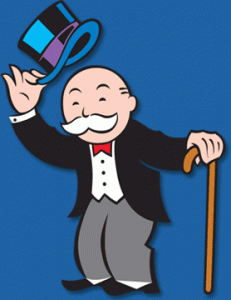 Given the practically infinite size of the Internet, it is statistically a near certainty that at any given moment someone somewhere on it is calling me a dick. Which is totally fine. It may even be true. But the weird thing about it is that when people talk smack about me they do it as if I can't hear them. I feel like if someone's going to call me a douchebag, they're going to do it anyway, but they would at least do it in a different way if I were in the room with them.
Which owing to the nature of the Internet I am. Except it doesn't seem like that to them — it seems like I'm off in some other universe somewhere where I can't hear them. I think this is partly because I write for Time, and I publish books through a big fat entrenched New York publisher, which means that my words tend to appear in glossy packages that were obviously designed and printed by massive soulless corporations. That has the effect of making me seem like some bloated plutocrat who looks like the Monopoly guy.
Which is totally wrong. I don't have a mustache.
And I don't want people to think of me that way. I want to be in the room. Being a writer without a blog is like being a ghost at your own funeral. You're there, and yet you're not. And then you overhear your best friend say, 'sure, he was a decent guy, but it's not like it's a national tragedy or anything. ooh, look, mini-pizzas!' Which—cool ghost powers aside—who wants that?
So here I am.