Sunday, November 13th, 2011
Gah — I Didn't Blog for a Month
Sorry about that. I hate that I didn't blog for a month. This blog is really important to me, but various not-very-exciting things have been happening that resulted in my ignoring it for a month.
For example: I toured Canada for about three weeks. I went to Texas twice. I wrote a bunch of things for Time — the night Steve Jobs died I co-write an entire cover story in four hours — and I've been editing Time's annual Best Inventions issue, which is interesting, and also beloved by advertisers. All good things, but also really time-consuming.
Also my wife's been working on a novel which is so good that it will render all of my work as dross. I've been helping her with that (as she helped me, a lot, with both the Magicians books).
Speaking of which, I've also been working on the sequel to The Magician King. Also an as-yet-untitled, unrevealed non-Magicians project that I will try to write concurrently with that sequel, but it may have to wait till after that's done.
And I've taken up writing a weekly books column for Time's entertainment blog. I just don't have space in Time to cover all the books I read, so I'll take care of the overflow there.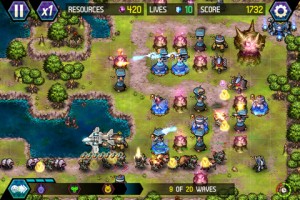 Also it took me like a million tries to beat stage D8 ("Dark Pool") of TowerDefense. (Two words: splash damage.)
Now the immediate future. I'll be in Miami on Nov. 19-20 for the Miami Book Fair, where I'll be doing what should be a really excellent panel with Mat Johnson and Colson Whitehead. Right before that, on November 17 in New York City, I'll do a reading as part of a PEN American event. Shortly after that, on December 6, I'm co-hosting the annual Housing Works Gin Mingle with Gabrielle Hamilton (whose restaurant Prune has the best bone marrow in New York, if that matters), Téa Obreht, Touré and — wait for it — Colson Whitehead again.
There. That was the blog post that took care of all the boring stuff that I would have said in a month of blog posts. The next blog post, coming soon, will actually be interesting. No — it will be riveting.