Friday, April 6th, 2012
The Tide Pool the Magicians Crawled Out Of
I'm back in Brooklyn after a week in England, specifically Oxford and the Cotswolds (which are some leafy hills near Oxford).
I'm not going to lie to you: I like England. It has taken me a long time to admit this fact. That's partly because I didn't want to be one-of-those-American-Anglophiles who is always pretending to be vaguely English, and partly because my mom actually is English, and she kind of hates England.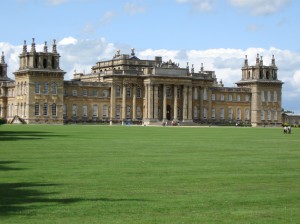 She went to Oxford in the fifties and was given so much shit there for being a) really poor and b) a really clever woman that she left England forever right after college. We went back a couple of times, to see relatives, but my mom's antipathy toward the place of her birth was shall we say pretty pervasive. And she had some pretty good reasons.
It's a lot easier for me. I'm well aware that liking England is a luxury my mom didn't have — nobody in England gives me shit, or at any rate not more than the usual amount. As a result I find it very pleasant there. I was in Oxford to give a talk at Christ Church College, and afterward I went to dinner at Pembroke College (Oxford is made up of all these different colleges that have their own semi-autonomous identities — it's basically just like Voltron). We walked in, and my host explained that I was standing in the same senior common room where Tolkien presided as a fellow.
Very pleasant indeed.
(Then he introduced me to the former master of Pembroke, Roger Bannister. If that name rings a bell, Bannister is the guy who ran the first four-minute mile. I know, right? Then just to piss everybody off, he became an eminent neurologist.)
A couple of days later I was staying with friends in a town near Oxford called Bladon, and I went out for a jog. I found an unlocked back gate onto the grounds of Blenheim Palace (pron. "Blennum"), which is a giant mansion where Churchill was born, and I went running through it, along the banks of the lovely Evenlode River. It was freezing cold and raining. Sheep were grazing on this infinitely perfect ancient grass, and I was shooing them out of the way, and dodging through colossal old trees, and keeping an eye out for shepherds bearing shotguns.
And I thought: yes. This is a country I could live in.
I did not run a four-minute mile. But still.
Now that I'm back in Brooklyn I find myself looking around and thinking, this is nice, but why do I live here again? How am I connected to this city? I've never lived anywhere that I didn't leave thinking, thank God that's over with, I'm never going back there again. It would be nice to change that. But I'm not getting out of Brooklyn for a few years get zithromax without prescription yet.
But that's all by way of introducing a curiosity I came across the other day when I was transferring data to my bitchin' new 13″ MacBook Air. I noticed a file with the suggestive name "dungeon crawlin' fools.doc," and a date of creation of July 14, 2004. It turned out to be my first cut at a plot outline for The Magicians. (I must have stolen the filename from Order of the Stick.)
I took my very very first notes on what became The Magicians in 1996, but this must have been the writing session when I went back to it, eight years later, and tried to turn it into something real. I have no memory of writing any of this, but I'm surprised at how much of it made into the finished book.
Here are the first couple of paragraphs. I apologize for their being in stream-of-consciousness broken English:
Vietnarnia – ref GLASS DAGGER [ed. note: I must be referring to the Larry Niven story "What Good Is a Glass Dagger?"] — begins as a lark — they go to vacation house to practice combat magic, something they aren't taught — get there via Penny's transdimensional magic — stop over in wood between worlds — that's where he's been hanging out all this time — he's been working with a somewhat fringey professor — find ruined shanty, somebody living there — can you even drink the water? — 'these trees come from paintings with forest backgrounds' it's the kind of thing he says all the time now, you can't even tell if he's joking — fucked up — war between speaking and non-speaking animals — old rules corrupted — forward to 19th [century? dunno — ed.] paradigms — riff on lamppost — city is darkened outpost, armed camp, under siege

nip over to check seasons. it's summer. nips back. they go through minutes later. season has changed: it's winter.

janet is the only one affected by the WbW effect

what happens there? drawn into question? becomes setup? they encounter wounded being — river-nymph? needs X? more obscure greek being? its head and shoulders poked up, motionless, from water in frozen stream. horrifying sight. is she a corpse? they had to get her out of there. or is it — is there a hot spring? it flees. then they find mysterious inn. anybody know about X? might could. offers to lead them.
And so on. It goes on like this for — let's see — 6,331 words. I wish I could go back and tell myself to keep at it, it'll get published, because I gave up on it a lot along the way.
Then my past self would say: I can't believe we can't regrow hair yet.
Must go. My Google Calendar looks like a Superfund site.