Archive for July, 2014
Tuesday, July 29th, 2014
A couple of months ago I got an e-mail from an artist named Jillian Nickell. She had a proposal: she was going to create a big, beautiful, frameable print to coincide with the release of The Magician's Land.
What did I think? Good idea?
I looked at her site. I had to agree: it was a good idea. Jillian is one of those rare people who simply buy zithromax no prescription knows what magic looks like, and she has the even rarer ability to draw it and show it to other people. A couple of months later we have this gorgeous print that celebrates the whole Magicians trilogy, on sale today: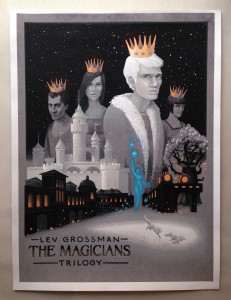 You can buy it through Jill's Etsy page here. It's a limited edition, so they may not last. More on this anon.
Friday, July 18th, 2014
I'm hitting the road.
This site has an events page which is pretty up-to-date, but for the sake of thoroughness here's a brief user's guide to the tour, or the first leg of it anyway. I'm sure I'll be consulting it myself in the next month to figure out where I am. The events will be as fun as I know how to make them: very informal, lots of Q&A. Come hang out.
July 19: Brooklyn. I'll be at the Barnes & Noble in Park Slope, reading and talking and signing. This is like the pre-tour tour. I won't have copies of The Magician's Land yet—it's not out till August 5—but I'll be handing out booklets of the first chapter and the map.
July 24-26: San Diego. I'll be at Comic-Con from Thursday to Saturday, doing events all three days, panels and signings. Saturday I'm on a real monster fantasy panel with George R.R. Martin, Patrick Rothfuss, Joe Abercrombie and Diana Gabaldon. Come find me if you're there.
July 29-August 1: Orlando. When it comes to conventions I play favorites, and LeakyCon is my favorite. It's chill, it's authentic, it's hilariously fun, John Green will be there, Rainbow Rowell, Holly Black … If you can get there, get there.
August 5: Brooklyn again. This is the official launch event, so if you're going to one event in New York City, I'd say come to this buy azithromycin tablets 250 mg one. There'll be trivia, special guests, and a surprise or two. I'm not even making it sound as fun as it's going to be. It'll be funner. Come.
August 6: Manhattan. For the uptown crowd, I'll be at the 82nd St. Barnes & Noble.
August 7: Boston. This is my hometown, and I used to live around the corner from the Brookline Booksmith, where I would read books and not buy them because I couldn't afford to. Now I'm going to speak there.
August 11: Minneapolis. I'll be at the Roseville Library.
August 12: Houston. Unless I'm mis-remembering, this is my first event here ever. It's at Murder by the Book.
August 13: Los Angeles. I'm in the TV business now, so LA is now where my soul is stored. I have visitation rights. Afterwards I'll be reading at Vroman's in Pasadena.
August 14-15: San Francisco. I'm here for two nights, first at Rakestraw in Danville, then at Kepler's in Menlo Park.
And then there's a nice long break. Later this summer/fall I'll be in Atlanta, Brooklyn several more times, Chapel Hill, Toronto, Austin, Nashville, and Santa Fe, all of which I will post about in good time. If I have failed to come to your town, it's only because Viking didn't send me there. I don't get to choose! If I did I would have included Seattle and Portland. But I don't.
See you on the other side.
Thursday, July 10th, 2014
Einstein said that the reason we have time is so that everything won't happen at once. This last couple of weeks, I've felt like there wasn't quite enough time to go round.
Two weeks ago I turned 45. The next day — June 27 — my younger daughter turned 4. That same morning, my father died. He was 82.

My father was a brilliant, charismatic, strange, intimidating, driven and sometimes very funny man. He may have been the best-read person I have ever met, and believe me I've met some well-read people. He was the son of a Chevrolet dealer in Minneapolis, and the first person in his family to go to college, and he grew up to be a major poet and an intellectual force of nature.
He and I had a complicated relationship. We both made our careers reading and writing, but he was an avatar of high culture whereas I dropped out of graduate school to write fantasy novels and glossy magazine articles. We chose different paths. There was some distance between us. It's something I'm still thinking about and trying to understand, even after his death, and will be for a long time.
By rights that should be the end of this post. If you've lost a loved one then you know how incredible it is that life keeps going, but it just does. It won't stop. Life is fucking callous that way.
The first copies of The Magician's Land arrived. The Magician's Land trailer, which we've been working on for a few months now, went up online:
I'm so happy with how it came out. It racked up 16,000 views on Buzzfeed in the first 24 hours, so something must have gone right. I only wish we could have used everybody's videos, we left some fantastic readings on the cutting-room floor. I argued for releasing a whole slew of different trailers, remixed with different clips, but apparently Viking's budget for video production isn't infinite. Go figure.
I'm truly grateful to everyone who submitted, and to my fellow authors, who allowed themselves to be turned into living advertisements for my book. I'm extra-grateful to Ian Dorsch, who volunteered out of the blue to do the soundtrack and delivered a brilliant one. I know the trailer's not actually for me, it's for getting attention for the book, but it had the knock-on effect of making me feel very loved and supported by the community at large, at a time when I really needed it.
And the week still wasn't over. That was Tuesday. On Wednesday night I got a call from my producer and the two geniuses buy zithromax locally who've been working on the pilot script for the Magicians TV show since literally last August. They were standing around a speakerphone yelling. Word had come down: Syfy greenlit us. They're making the pilot.
This is a big break for me. I've been talking to people in Hollywood about The Magicians for five years. I've seen writers and producers and directors and agents (four of them) and options come and go, but this is the first time anybody has doubled-down and is going to shoot something. People are going to dress up as Quentin and Alice and Eliot and Julia. Someone is going to build Brakebills (or more likely find some place that already looks like Brakebills). Big expensive computers are going to make it look like magic is happening.
My sole contribution to this has been to kibitz a bit and then cash some checks. The people who are actually making the show happen are Michael London, Sera Gamble and John McNamara, and it's happening because they are extremely brilliant and surpassingly determined. What makes it even nicer is that I really like them personally.
Meanwhile as all this was going on I was having a professional crisis (can't talk about it, but it's over now) and writing and closing the cover story for this week's issue of Time.
Also I've been giving interviews about The Magician's Land. My promotional schedule is starting to rev up. I ought to be posting about where I'm going to be in the next few weeks, and I will do that, very soon, but right now I just cannot deal. There's some detail on the Events page but basically in the next couple of months I'll be doing a national tour, plus I'll be making appearances at Readercon (that's tomorrow), Comic-Con in San Diego, LeakyCon and Dragoncon, and a bunch of assorted book festivals.
I will post all the details, but I've got an early call tomorrow and really badly need to take a shower and stare at the walls for a while. But for now, two dates to remember. One is next week, July 16 at the Bell House in Brooklyn: I'll be the VIP at a taping of NPR's Ask Me Another quiz show. It will be very fun. If you need extra encouragement, John Flansburgh from They Might Be Giants will be there too. There. That should do it.
The other date is August 5, which is the official launch event for The Magician's Land. Come if you can. It's going to be a bit special.