Biography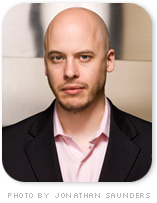 I was born in 1969, the son of two English professors, and grew up in Lexington, MA, a suburb of Boston. I graduated from college in 1991 with a degree in literature, then I spent three years in a Ph.D. program in comparative literature before I realized that a career in comparing literatures was not for me.
So I moved to New York City and began writing full-time. My first novel, Warp, was published in 1997; my second, Codex, came out in 2004 and became an international bestseller. My third novel, The Magicians, was published in 2009 and was a New York Times bestseller. The New Yorker named it one of the best books of 2009. The sequel, The Magician King, which came out in 2011, was a Times bestseller as well. They have now been published in more than twenty countries, and screen rights were optioned by Twentieth Century Fox. In 2011 I won the John W. Campbell Award for Best New Writer. In 2013 I was a finalist for the Nona Balakian Citation for Excellence in Reviewing.
I've also been writing for magazines and newspapers since 1997, mostly about books and technology. In 2002 I was hired by Time magazine as a staff writer. The New York Times very nicely said that I'm "among this country's smartest and most reliable critics." I've also written for Salon, The Village Voice, The Wall Street Journal, Wired, Entertainment Weekly, The Believer, Lingua Franca, the New York Times, and many other places. I make regular appearances on campuses, including Harvard, Yale and Oxford. Once in a while I even show up on NPR.
I live in Brooklyn with my wife, two daughters and one son, in a creaky old house.