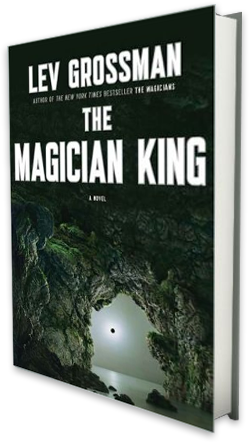 The Magician King
The Magician King is the sequel to The Magicians and picks up the story two years later. Quentin and his friends are the kings and queens of Fillory, but their life of luxury isn't the paradise it appears to be. The days and nights of royal leisure are starting to pall, and after a morning hunt takes a sinister turn, Quentin and his old friend Julia charter a magical sailing ship and set out on an errand to the wild outer reaches of their kingdom.
The Magicians was a New York Times bestseller and a New Yorker best book of 2009, and has drawn praise from, among others, William Gibson, Audrey Niffenegger, George R.R. Martin, Junot Diaz and Kelly Link.
You can buy official Magicians t-shirts and other merchandise here.
Praise for The Magician King and The Magicians:
"[The Magician King] is The Catcher in the Rye for devotees of alternative universes. It's dazzling and devil-may-care…Grossman has created a rare, strange and scintillating novel…When Quentin, midway through the book, fears that he has been exiled from Fillory forever, you'll feel what he feels: panic and dread. Like Quentin, you'll do whatever you have to do to return."
—The Chicago Tribune
"A spellbinding stereograph, a literary adventure novel that is also about a privilege, power and the limits of being human. The Magician King is a triumphant sequel."
—NPR
"The Magicians is Harry Potter for grown-ups…Stupendous."
—The Guardian
"The Magician King is a rare achievement, a book that simultaneously criticizes and celebrates our deep desire for fantasy."
—The Boston Globe
"Readers who have already enjoyed The Magicians should lose no time in picking up The Magician King. For those who haven't, read both books: Grossman's work is solid, smart and engaging adult fantasy."
—The Miami Herald
"It's a harrowing story, and a powerful counterpoint to The Magicians … The Magician King is a breakneck read. It will also, ultimately, break your heart, but that's what growing up – the greatest quest of all – will do."
—The Globe and Mail
"This serious, heartfelt novel turns the machinery of fantasy inside out."
—The New York Times
"Now that Harry Potter is through in books and films, grown-up fans of the boy wizard
might want to give this nimble fantasy series a try."
—The New York Post
"The Magician King is Grossman's sequel to The Magicians, and while it is every bit as delightful and smart as the first one, it's a very different kind of book… The Magician King is at once an existential exercise that angrily shakes escapism by its shoulders and demands that life have a purpose, and a story about extraordinary deeds, heroism, magic and love—all the stuff that makes escapism go.  It's a fantastic trick that makes this into a book that entertains and disturbs at the same time."
—Boing Boing
"Lev Grossman's The Magician King is a fresh take on the fantasy-quest novel—dark, austere, featuring characters with considerable psychological complexity, a collection of idiosyncratic talking animals (a sloth who knows the path to the underworld, a dragon in the Grand Canal), and splendid set pieces in Venice, Provence, Cornwall and Brooklyn."
—The Daily Beast
"In this page-turning follow-up to his best-selling 2009 novel The Magicians, Grossman takes another dark, sarcastically sinister stab at fantasy, set in the Narnia-esque realm of Fillory."
—Entertainment Weekly
"The Magician King is clearly the middle book in a trilogy, but it's that rare creature that bridges the gap between tales and still stands on its own. And just as the first book showed that growing up is hard no matter how much power you have, it shows that becoming an adult involves far more than just reaching the right age."
—A.V. Club
"Fabulous fantasy spiked with bitter adult wisdom—not to be missed."
—Kirkus Reviews (Starred review)
"Fans of The Magicians will find this sequel a feast and will be delighted that a jaw-dropping."
—Booklist
"[R]ichly imagined, emotionally satisfying and philosophically challenging new work."
—Shelf Awareness
"Mainstream fiction and fantasy fans alike will find this fairy tale for adults rewarding."
—Publishers Weekly