Posts Tagged 'next year I'm transferring to Pigfarts'
Thursday, July 7th, 2011
I was working on a headline with "link-unabula" but it just got really arcane really fast.
All right, if I posted at a reasonable rate I wouldn't have to cram all this stuff into one post, but I don't, do I? I'll start doing so soon.
— I'm on the cover of Locus this month, along with the incredible Ted Chiang, whom I have long admired from afar.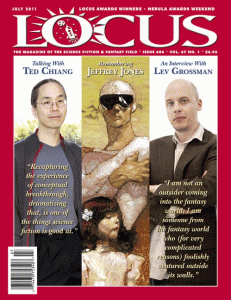 — I wrote an essay in Time about fan fiction, which I've been thinking about for a long time. My first draft was 8,000 words, and that didn't seem like enough, and it's running at 3,500 words, so I'm really proud of it, but some caveats apply.
— The first trade review of The Magician King (a bit spoilery, so reader discretion advised) in Kirkus
— I write here of my love for A Dance with Dragons, which really is everything you want it to be. (I made buy zithromax single dose online some stupid factual mistakes in the review. Once again, someone is wrong on the Internet!)
— Jennifer Weiner recommended The Magician King on The Today Show. She referred to The Magicians as "Dirty Harry," which I've been wanting somebody to do for literally years.
— A propos of nothing (or I guess a bit of that fan fiction essay) I was reminded the other day of my great love for A Very Potter Musical, a fan production that pastiches and parodies the original. (The guy who plays Harry, Darren Criss, has now surfaced as a regular on Glee.) They make a lot of edgy choices, like for example Cho Chang's entrance at 0:25 in Act 1, Part 2. (I could get into a long discussion of the live YouTube version vs. the vastly inferior studio soundtrack recording … but no.)