Posts Tagged 'revonguh'
Thursday, November 27th, 2014
I'm on my way back from a quick trip to New Orleans to visit the set of the Magicians show.
This goes partway to explaining why I'm so hungover and underslept. There were other contributing factors. But we can definitely identify that as the root cause.
[BTW I wrote this yesterday, on the plane, when it was actually true, but I've only got around to posting it now. Just go with it.]
Visiting the set was a pretty flat-out amazing experience, even though there isn't anything especially going on there yet. They've taken over a vast production facility in an industrial area outside New Orleans: a warren of offices attached to some huge empty factory spaces. One of them looks like this: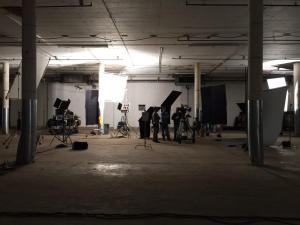 They're not actually shooting anything yet, but most of the cast of the show is there, living in hotels and rehearsing and generally being really talented and good-looking. They're doing camera tests (that's what's happening in the picture) and trying out costumes and scouting locations and talking about special effects and things like that. The actor playing Quentin (who is amazing but who I think is still a secret so I can't use his name) was practicing card tricks. The director, Mike Cahill, was stalking around figuring out technical stuff. Sera Gamble was supervising everything.
While I was there the actors did the first full read-through of the pilot script, at night, over pizza. This is the sort of thing you're supposed to say, but I'm going to say it anyway because it's true: they were amazing. (I performed the part of a Brakebills professor who hasn't been cast yet. Crushed it.)
It was strange hanging out with people who are getting ready to tell these stories. I'm used to me doing that, and having that process take place inside my head. To have other people doing it, and to be outside it, on the periphery of it, is pretty surreal.
But surprisingly wonderfully so. I'm really impressed with the people who are doing it. They're going to do some things with it that I cannot, cannot wait to see. More information about the show will leak out over the next few weeks, but it's not supposed to leak from me, so I'm going to shut up now.
More news? There isn't much more news. Lately I've been doing a lot of work for Time and noodling with some new projects, as one does. On December 3 I'll be onstage with, among others, Erin Morgenstern and Chuck Wendig at a celebration of Margaret Atwood's 75th birthday at the 92nd Street Y in New York City. Margaret Atwood will also be there. Come if you can, it'll be a night to remember.
Also, if you're thinking of buying a book by me as a holiday present, consider ordering it from Greenlight Bookstore. It's my neighborhood bookstore in Brooklyn, and I like to support them, and more to the point if you buy books there I can go by and sign and personalize them.