Posts Tagged 'self-congratulation'
Monday, February 18th, 2013
I'm currently on leave from Time to work on The Magician's Land. (I talked a little bit about what's going on with that here, and I'm gradually working my way around to talking about it here.)
So that's going well. But it bothers me that I haven't been blogging. I love blogging. When I'm doing heavy novelizing I tend to blow it off, but in my more lucid moments I realize it's an important part of what I do as an author.
And plus it's fun. Though it makes me feel old that I don't have a tumblr. Whatever the hell that is.
So I'm kicking off this week's work (and my first day out of bed after four days of a brutal cold) with this minor but nevertheless real and actual blog post. The point of which — besides to congratulate buy zithromax 1000 mg online myself for writing it — is to show off this letter 'o.'
A few weeks ago I got wind of a charity auction to benefit the Book Industry Charitable Foundation: they were selling off the letters from the sign outside the original flagship Borders store in Ann Arbor. It was a good cause, and plus I have sentimental feelings about Borders: they backed The Magicians to the hilt, to the point where they even flew me up to Ann Arbor and took me to dinner. They have a lot to do with its success.
And I have sentimental feelings about bookstores. And signage. So I looked at the bidding, chose the cheapest letter, and put down my money.
Now look: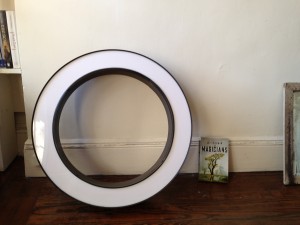 It makes me want to reconstruct the cover of one of my favorite books from childhood: