Posts Tagged '"the process"'
Monday, September 9th, 2013
Well, here we are at a funny in-between moment.
I finished a complete draft of The Magician's Land.  Then I revised it till my eyes bled and I lost all understanding of what it was I was trying to write about in the first place. At that point it seemed like time to turn the draft in to my editor. It was also  a good moment because it was a week after my contract said it was due.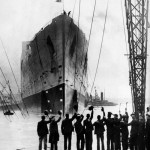 But you don't want to hit these deadlines right on the nose. Creates the wrong impression. I'm not a trained monkey here. I am an artist monkey!
Now all I have to do is go as long as I can without looking at the manuscript. This is the stage of novel-writing that Zadie Smith calls "step away from the vehicle":
When you finish generic of azithromycin your novel, if money is not a desperate priority, if you do not need to sell it at once or be published that very second — put it in a drawer. For as long as you can manage. A year or more is ideal — but even three months will do. Step away from the vehicle. The secret to editing your work is simple: you need to become its reader instead of its writer.
So here I go. I will fill up the upcoming weeks, months maybe, with going to work and seeing my family and working on other projects, all the while vigorously trying to forget whatever it was I spent the last two years writing. When next I see The Magician's Land, we shall meet as strangers.