Posts Tagged 'visible magic'
Friday, August 15th, 2014
A couple of weeks ago I blogged about this beautiful Magicians print by Jillian Nickell.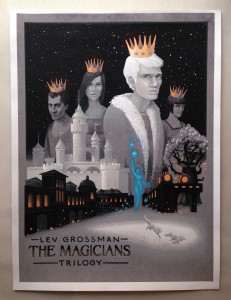 I'm a little bit obsessed with it. So much so that I made Jillian talk to me about how she created it. The conversation went as follows:
How do you get started on a project like this? Do you reread the books? Just start sketching and free-associating?
I actually had just recently re-read the first two books, I went on an overseas trip and took them with me on the plane. So when I started to work on the poster, a lot of the elements were still fresh in my mind. I wrote down a long list of details, story lines , and characters that could potentially go into the poster, and then I just started making rough sketches. Almost always before I start any project, I will do a really rough "sketch" in Photoshop outlining the basic shapes, composition, and values but very little specific small details. It helps me get the big decisions out of the way before getting very detailed.
It was especially helpful for this project because there are just so many things that I wanted to add to the poster that just would not all fit. Since it's a poster for all three books, I had to try to pick and choose parts from all three to try and get them to fit together in a way that makes sense.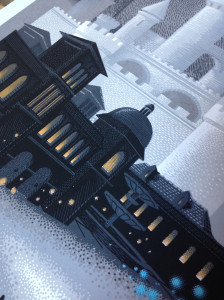 I didn't expect you to focus so much on the characters' faces — I thought it would be mostly clock-trees and talking sloths and that sort of thing. Needless to say I was pleasantly surprised. How did you go about figuring out so precisely how they looked?

I definitely wanted the focus of the poster to be on Quentin, since the whole book series is told mostly through his point of view. It made sense to have the other kings and queens there as well, who are incredibly important to the story. I really wanted to draw Quentin with his white hair, which is such a striking image to me. I gave him a white fur-lined cape, which matched the hair and also just felt like it fit his character.
I had read an interview with you which described how you imagined some of them looking, and I had my own ideas of how they should look, so I tried to blend those two ideas together. I always imagined Julia with freckles and long dark hair, and Elliot with slightly wavy hair. There were also some very buy azithromycin antibiotic online specific descriptions of character's styles, such as Janet's haircut. And Alice, obviously, as a niffin, is blue and glowing. I wanted her to feel as though she's radiating magic, and I think the glow helps achieve that.
Both Quentin and Julia have a somewhat sad/serious expressions – considering what happens to both of them throughout the series this made sense. I feel like Janet and Elliot have sort of this sarcastic, jokey front they put on for everyone else, but are really trying to cover up some emotional scars that come out later on in the books. I wanted their expressions to convey a bit of this as well.
I think they did.
Tell me about the colors: how you chose them, how you used them.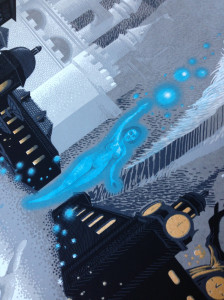 I went with a grayscale palette for most of the drawing for a few reasons. It gives a cooler feel which I especially wanted to play up, with the scene from Antarctica in front. Whitespire is, obviously, white. The whole background needed to be a starry night scene, since night almost always feels more enchanted. The white hair, the foxes, the sky, the castle…There was a lot of grey, black and white that needed to happen.
Also, it allows the gold and blue to pop even more. I chose to add the electric blue originally for Alice, but added more since that color just feels like buzzing energy.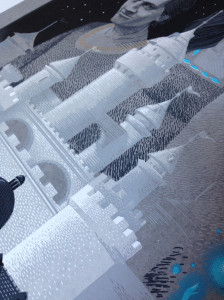 Gold also feels very magic. In the books you've got gold keys, gold crowns, gold coins, gold hands (or at least, that's how I pictured those things). It worked so well to have that gold glow effect in the windows of the neitherlands, the gold glowing clock faces, or the glowing blue and gold orbs. Really, anything that helps hint at an undercurrent of magic that's always there and often visible or just below the surface.
The funny thing is, now your images are reshaping the way I picture the Magicians world — it's a feedback loop. Looking over your work, it seems like you're drawn to magical or at any rate other-worldly subjects in general. What do you like about them?

I always wanted magic to be real, I guess, and illustrating those things out is one way of making it so. Also, I'm always drawn to images that transport you to another place, and make you not want to leave. My favorite picture books as a little kid had scenes in them that took you somewhere else and made the world seem enchanted, and I still love that feeling.