Posts Tagged 'wainscoting'
Wednesday, July 20th, 2011
I'm just back from Oxford, where I watched my genius sister-in-law get her doctorate in curing cancer.
I love Oxford. My mom went there, and she hated it, and it's always fun to love the things your parents hate. (In fairness to my mom, as a scholarship student and a woman she ran into a lot of really toxic class and gender prejudice at Oxford. Sorry mom.)
But come on! Tolkien and Lewis taught there. It's like the Trinity test site for modern fantasy. I made a pilgrimage to the original lamppost that inspired the one in Narnia: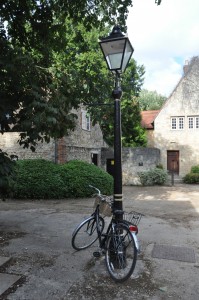 You can't see the overflowing dumpsters to my left. It's just as well.
Meanwhile I have shifted modes. My current mode is definitely not my favorite mode, or a mode that I'm any good at it. It is my promotional mode. When you stop writing your book, you have to start forcing everybody to look at it, know about it, and think about it, until where to buy zithromax uk their brains are empty of all else.
To that end you give interviews. You write snappy little mini-essays. You go to Comic-Con and sit on panels. (Mine is Thursday at 3. We got the death slot opposite the Game of Thrones panel, but come on! You'll never get into that one.) It takes up a lot of one's time that would be better spent blogging. But I will try to keep up better than I have been.
One housekeeping note: I have a story in a new anthology called The Thackery T. Lambshead Cabinet of Curiosities. I don't often write short fiction, but I was really proud of the piece. The way the book works is, they gave writers pieces of art to riff of; mine was a lovely sketch by Mike Mignola of Hellboy fame. And there are other, better pieces in the book by the likes of China Mieville and Alan Moore. An excerpt from my story is here.