Friday, June 11th, 2010
How I Got Published By Lev Grossman; or, A Series of Unfortunate Events
It's a question I get a lot. Not from people who actually want to know how I got published, but from people who want to know how they can get published.
I get that. It's pretty understandable. If I were them I'd want to know how I could get published too.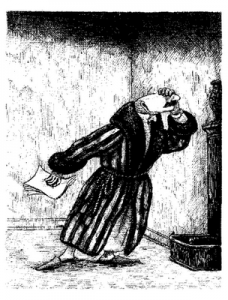 Well do I remember how incomprehensible the whole New York publishing world looked when I was not "inside" it. It is a dark planet, emitting little detectable radiation on any wavelength. There isn't much reliable information about its diabolical inhabitants. Accounts by travelers to that cursed orb rarely agree.
I can only give you mine. It's not pretty.
Chapter 1. In which I don't get published (1989-1993)
I saw short stories as the natural entry point. In college and shortly thereafter I wrote a lot of them. I would ballpark the number of my unpublished short stories at around 150. I stopped when I realized that a) I have no gift or real love for the short story as a form, and b) the market for short stories is a difficult and complicated and relatively conservative one. It helps to know people, and to have an MFA-type writing style. I didn't.
Chapter 2. In which I write a novel (1993-1996)
It's unlikely that, as a first-time novelist, you'll be able to sell a project based on a partial manuscript. You will need a total manuscript. I wrote a novel in the early 1990's, in the years right after I graduated college. I did this without an agent or connections or any particular encouragement. I was rejected from all the MFA programs, grant programs and writer's colonies I applied to. But it's the first thing I did right.
Chapter 3. In which I get an agent (1996)
This is probably the hardest and most important step. Once you have completed it you will have a shining, angelic being at your side in every fight. It is the last stage you'll have to do alone.
Luck is helpful here. Agents do go through their slush piles, but they also rely heavily on tips from friends and colleagues and other personal connections. If you know somebody who knows somebody who once sat next to a literary agent in a bar this one time, give them a call. Failing that, find out who the writers you admire have as agents. Query them.
Or be lucky. I was lucky. I spent a couple of years in grad school with a woman who later went on to enormous success as an agent. She represented my first novel. This was a huge stroke of good fortune for me, one of two such I've gotten in my professional life. Not so much for her.
Chapter 4. In which I don't give up (1997)
My first novel, Warp, was a slim, autobiographical affair. It was supposed to be a nerdy, East Coast version of Douglas Coupland's Generation X. It was about an obsessed Star Trek fan on the down and out in Allston, MA, a.k.a me in 1992. It notched up maybe 20 rejections before St. Martin's picked it up for a song. (One song = $6,000. These were fat, healthy 1996 dollars, but that's still very small for an advance.)
Chapter 5. In which I maybe should have given up (1998)
Warp flopped. As tiny as its advance was, it did not even earn it back.
Step 6: Still not giving up (1998-2004)
The publishing industry keeps a close eye on who 'earns out' their advances and who doesn't. If you don't, it's a huge millstone around your neck. The chain stores also track your numbers, and if your numbers suck, you become radioactive. It's a good thing I didn't really realize that at the time.
So I wrote another novel, a literary thriller along the lines of A.S. Byatt's Possession, with lashings of Neal Stephenson, called Codex. It took me five years. (I was working full-time and free-lancing during this period too. It's a good thing I was clinically depressed.) Tina 'took it out' — sent it out to publishers — in 2002. It was rejected by eight different editors.
At that point I didn't like the feedback we were gettting. Something was wrong with the book. I asked Tina to pull it off the market, and she did.
[Point of clarification: throughout this story you will see displays of persistence and loyalty from Tina, my agent, that simply beggar belief. She doesn't make her money off of no-count flop artists. While she was collecting dozens of rejection letters for my little novels, she was representing superstars like Malcolm Gladwell and Laura Hillenbrand and Eric Schlosser. But she didn't give up on me. This is one of the greatest things anybody has ever done for me.]
I spent a year rewriting Codex, then Tina 'took it out' again. This is unusual — once a book has been out once, it is somewhat tainted in the marketplace. But she did. She promptly got back 16 more rejections.
But on the 17th try a young editor at Harcourt — which had already rejected the book once — saw something she liked and offered $35,000 for it. This still isn't considered a large advance (especially for world rights, as opposed to North American) but starving, exhausted, leprous beggars can't be choosers. It seemed enormous to me. We said yes and we wept grateful tears.
Chapter 7: The turn (2004)
Codex made money. Not blockbuster money or anything like it, but thanks be to Crom, it made money. That's one of the advantages of getting a low advance: the road to profitability, and therefore success in the eyes of publishers, is a short one. Codex sold overseas. It hit a few bestseller lists in a few different countries. It didn't develop a cult following, and nobody bought the movie rights, but it did what I needed it to do.
Start to finish it had taken me 16 years before I got my first real taste of success. The albatross fell from around my neck.
Chapter 8. The beginning (2005-)
This is really where my writing career started. For the first time, instead of just white-knuckled determination, I actually had confidence. I relaxed. I dared to break a few rules. I went looking for my voice, and I found it. I wrote The Magicians.
Epilogue: This is an ugly story, but I've heard worse, much worse. This one has a happy ending, which is all that matters. What lessons can we take away from it?
One, never give up. While all this was happening I saw people — sometimes even people I knew — live the dream. They sent out their first novels and a week later sold them for six-figure sums in a 10-way auction. It really is that easy for some people. I just had to accept that that was never going to be my way. That was hard to accept.
Two, understand that the publishing system is not an efficient, fair, meritocratic system that will recognize and reward your literary greatness. It is not and will not. It is a corrupt, highly fallible system, and you must treat it as such.
To beat it you must hack it. Find out what it wants and be that thing, and if you can't be it then pretend to be it until you're inside and it's too late for them to kick you back out.
Then, one day, you'll be in a position to tell it who you really are, and that what it wants is you.
Good luck. I'll see you on the other side.