Monday, July 5th, 2010
And Now We Go to the Mattresses; or, Inspiration is a Total Myth, Probably
I recognize this part. This is the hard part. This is the part where we go to the mattresses.
And it's not just because we hit Bruno Tattaglia at four o'clock this morning.
Sometimes I wonder if my life is incorrectly configured for what I'm trying to do with it. For example: I want to finish The Magician King by the end of September.
But: I have a full-time job and a new baby.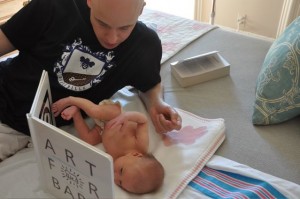 New babies have to be fed, changed, napped, played with, etc. on a three-to-four-hour cycle. (This may be because they're actually an alien race that evolved on a fast-spinning planetoid, and this is their natural day-night cycle. Tell the President … )

Full-time jobs aren't much better.
And thus the Great Game begins. The object of the Game is to manage your resources such that as many times a week as possible you fulfill the following conditions.
1) Your baby is asleep
2) You got more than 5 hours of sleep last night (non-sequential) and have had coffee and therefore are cleared to operate a computer
3) You have no deadlines in the next two hours, and nothing is either dying or breaking that you know about or can plausibly deny having known about later
If you can fulfill the above conditions, you work on your book. If not then not. You lose the Game. I would say I lose about four days out of seven.
I remember the first time I went through this. Lily was born in May of 2004. I started The Magicians in July of that year. The best thing that happened for my creative life during this period was that I got shingles and was forbidden from touching the baby for two weeks.
One of the first things to go when you're playing the Game is the idea of inspiration. You do not wait to be inspired. Inspiration is bullshit. This ain't no writer's order zithromax for chlamydia colony. This ain't no Mudd Club. Or CBGB's. When you see a window you hit that window, soldier, and if you haven't got your inspiration with you you hastily construct some inspiration from a plastic spork, a rubber band and a bar of soap.
Periodically — like now! — I get Envious of Other Writers who don't have day jobs and who get to spend more time writing.
But then I ask myself, why do you have a day job? Why didn't you arrange your life in such a way that you too could write every day? Why do you live in New York City, which is an expensive place to live? Why don't you live in Sweden, where fathers get 16 months paid paternity leave, instead of one week? Why does the mass of the universe when calculated by relativistic means not equal the mass accounted for by visible luminous bodies? Why did you not configure your life properly during installation? Why are you such a useless fucker, Lev Grossman? Why why why?
Then I remember: I made a bunch of decisions. Some of them were good. Some of them were bad but it's too late to fix them. Upshot: I must live in New York City and have a day job.
God damn decisions for having consequences. Let the games begin.
p.s. this post was written under the influence of The Godfather, which I recently re-watched with Sophie, who because she grew up in The Antipodes had never seen it before.
I put it to her that she could not possibly understand either men or America without seeing The Godfather.
There is actually one allusion (that I can think of) to The Godfather in The Magicians. A No-Prize to the first person who points it out.
Or no, that's lame. A Brakebills t-shirt to whoever spots it first. Answers in the comments pls.