Thursday, July 8th, 2010
Gödel Escher Bach: An Endless Geek Bible
I'm too short on sleep to work on my book and too wired to take a nap. So let us speak instead of Douglas Hofstadter.
In 1979 Hofstadter — a 34-year-old professor of computer science at Indiana University — published a book called Gödel Escher Bach: An Eternal Golden Braid which won the Pulitzer Prize for non-fiction. If you haven't read it — though if you're reading this blog chances are not-bad that you have — it's a playful, wildly interdisciplinary argument-slash-fantasia about three radical thinkers and how their work relates to the nature of human consciousness.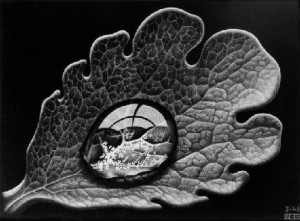 My sister was just old enough in 1979 (she was 14) to bring Gödel Escher Bach into our house and obliquely signal its importance to me and my brother by leaving it lying around and making strange coded-sounding references to it in conversation.
My brother and I subsequently read it and became infected with the GEB virus. It altered our intellectual DNA forever.
In fact I'd go so far as to suppose — how would you prove it? — that GEB reconfigured the brains of an entire generation of power nerds who are now grown up and doing interesting shit. As famous as it is I'm willing to bet its influence is still way underestimated. It's the secret nerd bible of my generation.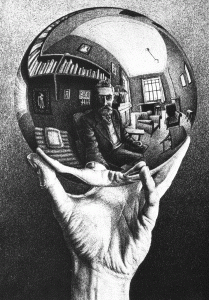 The funny thing about GEB is that it was important to me even though I had no real understanding of what it was actually about.
Escher was basically graspable by me, because duh, interlocking lizards. And I knew a little music theory (cello lessons) for the Bach.
But Gödel was light-years beyond my understanding, and plus I couldn't read symbolic logic. So there goes most of the book right there. But fortunately I was too young to be scared off by that.
So I more read GEB the way you would read an encyclopedia. It alerted me to the fact that there was a whole world of cool shit out there, and that I was interested in it, and that being interested in it made me different, in a good way.
That cool shit included: computers, lame puns, viruses, ants, beauty, self-reference, artificial intelligence, neurology, symmetry, asymmetry, koans, paradoxes, palindromes, genetics, strange loops, languages, form-content experiments, Magritte paintings, self-engulfing TV screens and flaming tubas.
(There are in fact three separate page listings for flaming tubas in the index of Gödel Escher Bach.)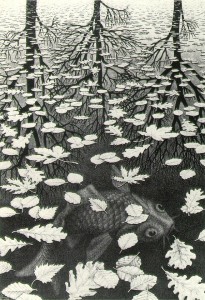 Here are some other things I came across in GEB:
— Zeno's paradox
— Fermat's Last Theorem
— The Turing test
— Quining
— A jukebox that contains only one record, but many different record players, each of which interprets that one record in a different way to produce an entirely different song.
— A Subjunc-TV, which shows the same football game under alternate circumstances — as it would have happened if it were raining, or if footballs were spheres instead of oblate spheroids (oblate spheroids: a phrase I will remember till death), or if football were baseball, or if the game were played in four-dimensional space.
— A Meta-Genie who grants meta-wishes, namely wishes about wishes
And so on.
If there's a thread that runs through all this stuff, it's the related ideas of recursion and self-reference — the strange loops that Hofstadter finds in (at the heart of) every system he studies.
Recursion is weird. Look for it and you find it everywhere, and everywhere you find it, things that appear to be finite and arid and boring become infinitely, fractally interesting. It gave me hope that even though magic wasn't real and I wasn't going to Narnia — probably — it was just possible that the planet Earth wasn't completely bullshit.
(In fact when I reread the Narnia books after reading GEB, I became obsessed with the idea of Narnia as an incomplete, infinitely regressing system. If the Pevensies die into Narnia in The Last Battle, and Narnia then collapses into Aslan's Country, how do we know that Aslan's Country won't then collapse buy zithromax online in usa into some still higher reality, and so on, and so on, worlds without end? You could never be sure.)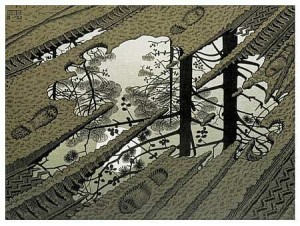 There's a weird sequel to this story. In 2006 I interviewed Hofstadter for Time.
He'd just published I Am a Strange Loop, a follow-up of sorts to GEB, 28 years later.
His patience with me was amazing. For all his brilliance, and all my lack of same, he was willing to talk to me for something like 90 minutes on the phone, even though he had to pick up his daughter from school in the middle of the conversation.
But the new book itself was not what I expected. It isn't playful like GEB. It's a passionate, rigorous, rather severe argument about the nature of consciousness, grounded in the work of Gödel among others.
Hofstadter also talks about his own life in Strange Loop, which I never knew much about. His father won the Nobel Prize for physics (how did I miss that?) He has a sister, Molly, who has serious neurological problems and never learned to talk.
And Hofstadter's wife died unexpectedly when she was 42, leaving him with two small children to raise. His grief for her runs all through I Am a Strange Loop. He does a lot of thinking about the ways in which her consciousness could be said to live on in other forms.
(And gosh, here I am complaining about my healthy wife and I having to take care of our healthy baby.)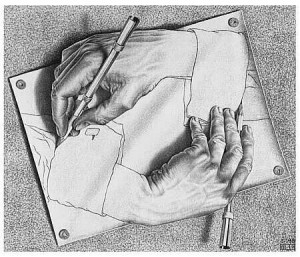 Hofstadter wasn't what I expected either. Your heroes make you; you don't get to make them. I of course wanted Hofstadter to be my father/mentor/best friend, à la Gandalf/Dumbledore etc. He probably gets that a lot. But that was never going to happen.
He's not a charmer. He's a slow talker, not much given to humor, and very much given to long monologues. To my non-Gödel-comprehending mind his ideas about consciousness sometimes bordered on the mystical. I wanted hard clinical evidence, the kind of evidence that's hard to come by when you're talking about the nature of consciousness. Hofstadter is a theorist.
And he wasn't very interested in the aspects of GEB that were most important to me. All that playful stuff, the witty dialogues, the brilliant polymathic leaps between art and science, math and music and computers and genetics and all that — he was actually pretty dismissive of it. To him they were just distractions from the central argument about the mind. I got the impression he slightly regretted having put them in the book at all.
Sigh.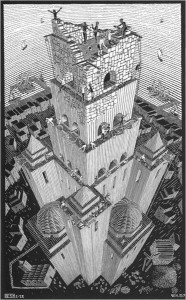 And here's the coda to the sequel.
Toward the end of Strange Loop there's a black-and-white photograph of a small metal sculpture.
Now, I didn't turn out to be a math genius. I topped out at "above average." I'm even shit at chess. But my sister went on from Gödel Escher Bach to do math and computer science in a serious professional way. Eventually she changed careers and became a sculptor, but the forms she creates come directly out of her mathematical work — they're an expression of, and derived in a rigorous way from, that same fascination with symmetry and topology that began with GEB.
And you know what? That sculpture at the end of Strange Loop is by her. Someone had given it to Hofstadter. He never knew who made it, but he liked it enough that he put it in his new book. So in a way the strange loop that began with GEB, and which ran through our house in suburban Massachusetts in the 1980s, had miraculously closed itself.
The crab canon was concluded. Who's mystical now?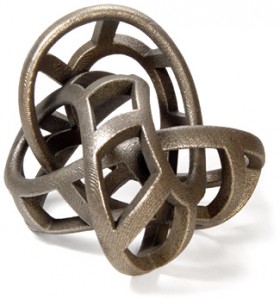 Epilogue to the coda to the sequel: of course when I saw the photograph I immediately e-mailed my sister to tell her the news. She — a person of exemplary directness — immediately e-mailed back something to the effect of, "And he didn't give me a credit? That asshole."
That also seemed strangely appropriate.