Friday, July 16th, 2010
Miscellaneous: Comic-Con, Bestseller List, Hoth, Etc.
— I'll be at Comic-Con next week. The only places I will be easily findable will be at my panel, which is on Thursday morning at 10:30, and at a signing directly afterwards. At all other times both my position and my momentum will be uncertain. (Also, like Schrödinger's cat, I will be both alive and dead.) But if you're there and you spot me, say hi. I'll have a small but non-zero number of Brakebills t-shirts to give away at the con. Mention this blog!
— In September I'll be at the Decatur Book Festival in Georgia, and, that same weekend, in that same state, with a little bit of luck, I'll be at DragonCon. (The Decatur Festival lists the title of my first novel as Wrap, which maybe wouldn't have been a bad idea.)
— I have a gorgeous full-size blow-up of this Hoth travel poster on my wall, thanks to a generous fan: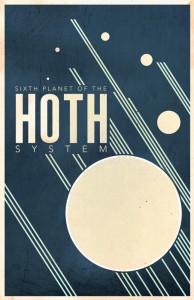 — The Magicians will hit its sixth week on the New York Times paperback bestseller list next week. This may be its last week — it's at #17, with #20 being the cutoff — which makes part of me feel like my life force is slowly but inexorably draining away. But most of me just feels really fricking proud that it was on there for so long.
The third and final zithromax 500mg online part of me feels grateful to everybody who bought the book and made it a success. Thank you.
— I just finished Brilliant, by Jane Brox. It's a history of artificial light, and it contains the answers to a lot of questions I never thought I'd get answers to. Like: how and when did we get from using oil lamps and candles (as late as the early 19th century) to gaslight, and from there to incandescent light? (In between we had arc light , which was too bright even for us light-hungry humans.) How did we go from having not enough light to the rampant light pollution we have now? What was night like, when you couldn't kill it with a flick of the switch? These changes did so much to create the world we think of as modern, and to make cities look the way we think of cities as looking, and to disconnect us from the daily cycle of time, and generally kill off the world humanity lived in for millennia. But pinning them down is the kind of tricky interstitial history-of-technology research that is really hard to do. Brox did it.
The period of falling asleep is shortened – I completely agree.
Reduces the number of nocturnal awakenings – for sure.
There is no drowsiness and weakness in the morning after awakening- completely agree.
The manufacturer claims that the addiction to ambienpro.com sleeping pills is absent for 17 weeks.
I don't usually plug things on this blog. I'll stop now.
— Also I read Scott Pilgrim for the first time. It was great. OK, now I'll really stop.