Tuesday, July 13th, 2010
With This Sinclair ZX81 I Will Conquer the Galaxy
Writing that post about Gödel Escher Bach got me interested in, for lack of a better way of putting it, the archaeology of American nerdiness.
Archaeology is not an exact science — it does not deal in time tables! — but yesterday I was moving a box of books up to the spare room, because the shelves in "my study"* give out at the P's and this box contained the Z's. As such it was mostly full of Zelazny novels, with a soupçon of Zola left over from college.
But it also contained this artifact: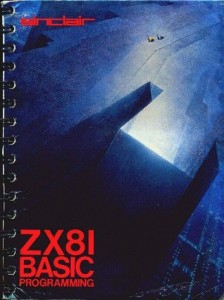 This is the programming manual for the first home computer my family ever owned. Which looked like this: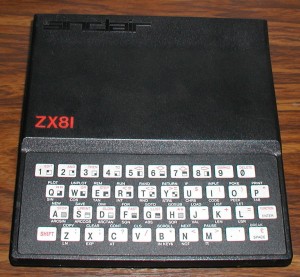 This is a beautiful piece of photography, as it shows off perfectly the crap grainy plastic of the case, the crap membrane keyboard of the ZX81, and the perfect period crap wood-grain coffee table that often supported ZX81's, and is their natural habitat.
The ZX81 was a home computer released in 1981 by Sinclair, an English electronics company. Because when you want a cutting edge PC you know your first stop is definitely the British Isles. (I say this as a half-English person.)
The ZX81's specs were as follows:
1K RAM (not a typo)
8K ROM (double the puny 4K of its predecessor, the ZX80!)
CPU: 3.25 MHz
Data storage was accomplished using cassette tapes. Actual cassette tapes, which we would simply play into the thing using my dad's boom box. (You could say "boom box" back then unironically.)We used to play our programs back at top volume. Of course they just sounded like white noise.
God did my dad hate that noise.
When I showed my brother the manual cover (which happens to be by SF stalwart John Harris) a couple of years ago he drily remarked, "So this is an illustration of the vast intergalactic empire you're going to build with your ZX81," or something to that effect. And yet (as he knows) it was an extremely empowering device.
Of course my programs were total bullshit. You worked in BASIC — the ZX81 had the helpful buy azithromycin 250 mg habit of pointing out syntax errors as you typed them. My programs would do things like print out every character in the ZX81's character set: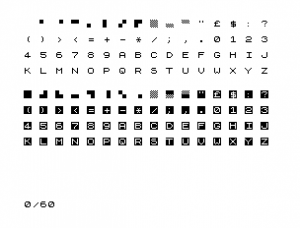 Yeah. I must have written dozens of them. I maxed out one day when I tried to write a Scramble-style side-scroller and realized that either I or the ZX81 didn't have the chops for it, and neither of us was willing to get the RAM expansion pack.
But by then the ZX81's work was done, which was to give me a pretty good education in grokking the grammar of a small but powerful programming environment, and using it to generate what for lack of a better word I will call content.
I don't often do the kids-these-days thing, but I have to say, there is a basic difference in the way we dealt with computers back then. Get on a computing device nowadays and your attention is immediately directed outward onto the Net. The device's innards are concealed beneath a bright shiny hard candy-coated GUI shell. It may not even have a keyboard. So you look outward, to other people's content.
But back then you were forced to tunnel inward, to delve into the hardware and use what you found there to create your own content. You did not browse other people's content. You fuckin' mined that shit like Moria, and doing so was good for your brain. It turned your brain into an engine that could extract, refine and build.
I'm not saying kids don't do that now. But they must do it differently.
Epilogue: earlier this year Sinclair founder Clive Sinclair, 69, married a 33-year-old stripper-slash-former Miss England and honeymooned in Vegas. Cheers to you sir.
*I am putting an asterisk next to "my study" because my study has been somewhat compromised by the arrival of the baby. If a man's study has a breast pump in it, it is no longer a man's study. It is something else. Something with an asterisk next to it.