Saturday, August 14th, 2010
Jonathan Franzen and the Glorious Post-Human Future
The cover story in Time this week is by me. It's a profile of Jonathan Franzen, a novelist who is of great interest to me.
The Corrections was kind of a totem for me while I was writing The Magicians. It was a transitional love object, like a teddy bear — I didn't like to write without my copy of it handy.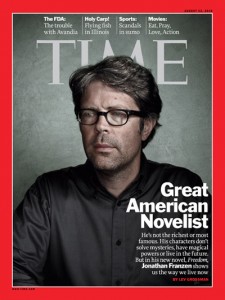 That and The Lion, the Witch and the Wardrobe. I put one on one side of my desk, one on the other, and wrote The Magicians in the weird magneto-literary field they generated between them.
Franzen has a new novel coming out, his first since The Corrections, which was in 2001. (Weirdly it came out practically on September 11th.) It's called Freedom. It's good. Franzen writes in a close-third-person style that basically to me is the state of the goddamned art for literary prose.

My profile of Franzen is online, or rather about an eighth of it is online. The whole thing is in the print magazine, and I think you can get it on the iPad too, but on the web it is concealed behind a "paywall," which at this point is more wall than pay. Top-flight mad-scientist infrastructure engineers at Time Inc. are even now attempting to "enable" "online" "credit-card transactions" that would allow visitors to "pay" to read my profile of Franzen. Fools! Your pride challenges the gods themselves!
I only write the cover story once or twice a year, and when I do it's never a books story. So it's a nice milestone for me.
Now I'm in San Francisco at the Singularity Summit, where nanobots are making me immortal. At this point I would settle for online credit-card transactions.