Saturday, September 11th, 2010
Fall Events, Mumbled Apologies, Fandom and Me
It doesn't surprise me that I've been so crap about posting, given this. I'm not happy about it. But I'm not surprised.
And even this will not be a true 'post,' in the sense that it adds any content to the ambient contentverse. It's just a haphazard aggregation of pre-existing content. But right now it's all I got.
— I spent last weekend in Georgia. I went to DragonCon, the sheer scale of which was stunning — just the raw acreage of exposed cosplayer flesh alone was awe-inspiring — and the Decatur Book Festival, a really lovely event — the people were truly wonderful, and I don't know if I've ever been to a better-organized books festival. And I addressed an audience from the pulpit of a Baptist church, thereby fulfilling a childhood ambition: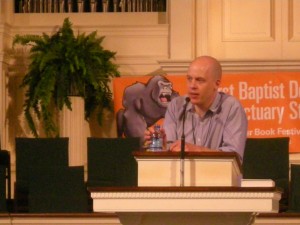 I also smoked a cigarette, thereby ruining an adulthood ambition. At least I didn't do them at the same time.

— If anybody's curious about my Time cover on Jonathan Franzen, it has now emerged shyly out from behind Time's paywall. I wrote a profile of William Gibson too, but that one's still in hiding.
— Now to the future. My festival attendance is not over for this buy zithromax hong kong year, not by half. I'll be at the Miami Book Fair in November. I'll also be at the Texas Book Festival in Austin in October, for an event that I think hasn't been announced yet, so I'd better not announce it here, lest I get in trouble.
I don't think I'm going to make it to the World Fantasy Convention. That's disappointing. My career is so evenly distributed between the so-called literary world and the so-called fantasy world, I sometimes have trouble balancing the two halves.
Of course I don't actually admit that there are two halves. To me they just look like one big world. But sometimes they happen in different places, and you can't get to both. If I end up at the civilian book festivals a lot, as is happening this fall, one reason is that for some reason they invite me more often than the cons. (Boskone and Readercon being two awesome exceptions.) I think of myself as part of fandom. But sometimes I wonder whether fandom thinks of me as part of it.
— Also I'm taking part in New York's Lit Crawl tonight. Chance of drunken ranting: 100%.