Tuesday, October 19th, 2010
The Thief and the Soloist: A Very Brief Taxonomy of Writers
This started out as a bullet point from yesterday's post about how the new book was coming. But then I got too interested in it, and it broke free and took on a hideous life of its own.
As far as I can tell there are two kinds of fiction writers: those who read no fiction while they write, and those who constantly read fiction while they write. Let's have cute names for them. We'll call them Soloists and Thieves.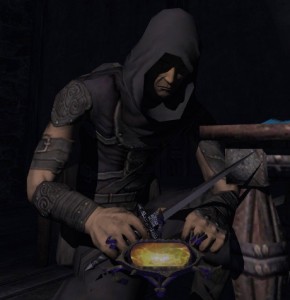 I'm the second kind. I can't function as a writer unless I'm reading somebody else — somebody better than me — and stripping off parts and reverse-engineering special effects and so on as I go. Maybe I need somebody to compete with, or just somebody to remind me that things that seem impossible are in fact possible (for other people).
Maybe it's an Oedipal thing a la Bloom's Anxiety of Influence — I need that primal conflict with a father-in-art in order to be productive.
A more charitable friend — and fellow Thief — calls those other books "sponsor texts." I just think of them as companions-in-arms. They fight beside you, loyally, and then when things get tough you wait till they fall asleep and then you mug them and roll them for whatever they've got.
I don't understand how the Soloists do it. It's like they're sailing across the Atlantic without instruments — coolly, no map, no reference points, just navigating by the feel of the tiller. The Soloists I know avoid other novels like the plague when they're writing. It's like reading them will pollute their pure bloodlines or something.
As a Thief, I don't have that need for purity. But I would give anything for that sense of absolute direction. Like perfect pitch — Soloists don't need to tune to anything. To go back to the navigation metaphor, I'm constantly checking my GPS and taking sextant readings and heaving the log and shooting azimuths and God knows what else, just to make sure I haven't wandered off the map into some bizarre territory where I've forgotten that sentences are supposed to have verbs in them or something.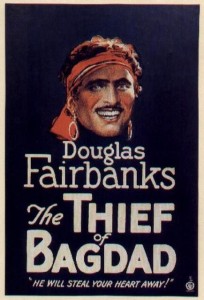 So for example, the works I'm currently stealing from for The Magician King are:
— Neal Stephenson, Snow Crash. What I'm stealing: the style — his effortless no-bullshit humor and his sheer raw verbal intelligence and precision. Compared to Stephenson everybody else is using blunt instruments, and he's got a molecular scalpel. Or maybe he's got a glass knife. I can't do what he does, but just watching him play raises my game.
— Raymond Chandler, Farewell, My Lovely. What I'm stealing: the voice, the hot dames (Anne Riordan = sexiest private-eye client ever) and the work ethic — that guy just flat-out refused to write a boring sentence. But most of all I'm stealing the plotting. I don't think anybody in the history of literature plotted like Chandler. One beat leads smoothly and seamlessly into the next, but at a slightly funny angle, so that you think you've been going in a straight line, but then you look around and you realize that somehow you're miles out of town in some dry canyon you've never seen before, it's late at night, the moon is out, and someone's sapping you expertly in the back of the head.
— C.S. Lewis, Voyage of the Dawn Treader What I'm stealing: the pure wonder. I don't know what Lewis's connection was, but it must have been bad-ass. I only get stuff that's been diluted and adulterated and stepped on eight times with baking soda. But Lewis? He got his fix straight from the source.
— Jonathan Franzen, The Corrections. What I'm stealing: again, the style. Remember when I said that about Stephenson? I lied. Franzen's another guy with a molecular scalpel, plus Franzen's got some-kind of extremely high-resolution mind-reading MRI machine. (And I find Franzen and Stephenson extra-useful because they write with about the same pacing as me, and in close-third-person, which is what I use. So basically I can steal from them directly, with no touching-up required.)
There's others, of course. I'm always taking nips from Waugh and Rowling and Pullman and T.H. White as I go. And the funny thing is? Sometimes I steal from myself, from my own earlier work. Which now, after it's done, reads to me like the work of a confident, sure-footed, easy-riding Soloist.
But I know that guy. And that guy's a Thief.