Thursday, December 23rd, 2010
The Brakebills Alumni Newsletter #3
Not everyone who reads this blog may know this, but there's actually an informational newsletter for Magicians fans that goes out three times a year.
Or at least, it went out three times this year. The first year of its existence.
So if you read this blog, and follow me on Twitter, and like my page on Facebook, and yet you still wake up at night thinking, how can my life be full of more information about Lev Grossman, his works and days? Then sign up here!!!
Now that I've just sent out the latest issue, like, seconds ago, I've already thought of a few things I got wrong and/or left out of it.
Like for example, when I started it, I realize now that I said it was going to come out four times a year. Not three. So now I have my New Year's resolution.
I also said that as a special bonus, subscribers would receive a vanishingly rare, painfully intimate photo of me from high school, when I still had hair. That was before I realized that I couldn't figure out how to attach a file to a MailChimp newsletter, if that's even possible, and not only that, I was too lazy even to figure out how to embed an image in one. So here you go: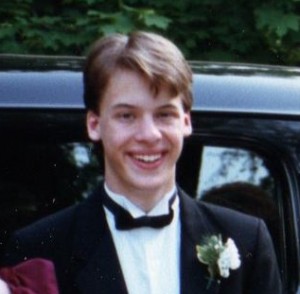 That's my prom date's burgundy ruffle there in the lower left hand corner.
Finally, I realize now that when I sent out the last issue of the newsletter, I invited people to send in suggestions for the name of a new character in The Magician King, who is a sloth. I then completely forgot that people who got the newsletter would reply to its e-mail address, not my e-mail address. Clever.
It finally occurred to me to check the newsletter's e-mail address earlier today, and I found it stuffed full of sloth names. And other things. I'm shaking my head with real shame and rue at the great e-mails I never responded to. Damn me.
The sloth still doesn't have a name. So far the other characters just call him Sloth. So I'm going to list a selection of the sloth names below, for your perusal. Some of them have annotations, which I've left on because that makes them funner. All of them are awesome:
-Dave-o
-Vicis
-Brady (from the latin genus for sloth)
-Slopoke (using what I think may be a Pokemon name)
-Slaw (old english for slow- my favorite)
– If the sloth is male and has a pleasant disposition – Rupert. If the sloth is female – Sheba. And if the sloth is male and not very kind – King Rufus the Strong – but everyone just calls him King. [ed. note: I can't use Sheba buy azithromycin nz because that's my sister's name, and I might die.]
-The only sloth I can think of is Stephen Maturin's from POB's "HMS Surprise." Sadly, it is unnamed as far as I can remember, but something like "Stephen" or "Maturin" would be enough to make the connection for a small subset of your readers. (It would also help if he was a lush, or otherwise debauched.)
-Aurtherford
-Phillip
-As in regards to the sloth i like Woolsey haha i had a pet sloth and that was his name.
-Seimor would be a good name for the sloth. Our baby has a toy cow we call Seimor, but I think it fits a sloth much better.
-"The Intentional Sloth" sounds funny but gives the impression that he is a sloth intentionally rather than a sloth that can be usefully approached from the intentional stance. "Sloth ird" as a play on sith lord. "Hangman" or possibly "Hangover". Steve. Racecar. Ebola Cereal. Cog. Actually no, just go with The Intentional Sloth because that's an awesome sloth name. [ed. note: It sure is. I'm seriously tempted.]
-PHIL (Attraction/Obssesion) or PHYL (Meaning LEAF from the Latin because the Sloths eat Leafs) and the end could be CER or SER… Cer is the begining of the word CECROPIA which is a genus of trees species but also SER in spanish means BEING, or TO BE, also a LIVING THING… so a compounded name: PHYLSER, PHILCER
-Cecro
-It should be Sandy (which I note is a gender neutral name).  Do I really need to spell it out for you? Sloths are slothful (duh) and thus like to sleep.  The Sandman puts people (and creatures) to sleep. Ipso facto, Sandy is the perfect name for a talking sloth.
-Percy
-Clubbins McGann aka Clubby
-Randall Wee
-Slowinski
-Jimmy Jim-Jim, fils [ed. note: the fils really puts this one over the top. It deserves its own tag.]
-Otto Bismark
-Agnar the Discheveler
-Roysten Lambic Pons Medulla-Oblongata Lemon Frappe
-Bobby
-Gerald
-If he's a cool character and he is memorable call him Corwin to go with the Uber amount of other RZ Amber characters  (Martin, Ember/Umber, Oberon, I think at least one of the sisters) used in tribute in The Magicians. [ed note: I'm a major Amber fan. Maybe I should call the sloth Zelazny.]
-Borgen
-Somnulus
-Harlan
-Sarthen
-I nominate the name "Melville" for the sloth. It's a mouthful with all the Ls. So, you get tired saying it, making you want to take a nap (very slothlike). It's a stretch – I know. But, I also think a talking sloth would probably be a little high brow with an "I'm too good to get up in the morning" attitude. So, "Melville" seems to fit. [ed. note: excellent points all.]
-Griffin Springfellow
-Vandor
-Abigail
-Double Cheese
-Cobalt
-Bassifer
-Marcus Savage
-Morgan Freeman
-Morgan Fairchild
-The Great and Tired Wolfgang
-Just Wolfgang
-Sam
-Pendleton the Talking Sloth
Awesome. Just awesome. I may have to write an all-sloth novel that uses all of these.