Thursday, May 26th, 2011
Writers Who Love Video Games
When I was in first grade something weird started happening. Kids were getting taken out of class in groups of three or four, and when they returned they were … altered. I was pretty sure that the time had come, and we were finally being replaced by our replicant doubles, and I just hoped that when it was my turn I would meet my fate proudly and not beg.
Instead when it was my turn we were taken down the hall and down the stairs into our school's fallout shelter (yeah, yeah, I'm old. Saw me in half and count the rings, why don't you) and ushered into the presence of this: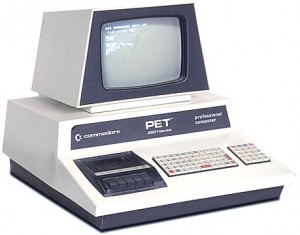 This was a Commodore PET computer. (PET stood for Personal Electronic Transactor!) As a replicant double it wasn't a great likeness. But it did play games. Specifically it played Hunt the Wumpus. As a result of this electronic transaction, I became a gamer.
(This is only partly true. We got Pong around that time too. But anyway somewhere in there I became a gamer, which is my point.)
I often get a surprised reaction to the fact that I'm both a books guy and a games guy. They're supposed to be mortal enemies, fighting it out for a slice of the unexpanding pie of our entertainment hours/dollars. But then I'm surprised at their surprise. I mean, come on, you were introverted and socially anxious when you were a kid, right? Right? What else did you do besides read books and play video games? Where does this schism come from?
What, were you out there playing kickball? Jock.
Those early games were more book-like than games nowadays, in a way, in that they were so bare-bones and low-res that you had to do a lot of imaginative work fleshing out the world yourself, the same way you have to fill in the visuals yourself when you read. What was in those "lodes" that the Lode Runners were running, and why were they risking their lives to run them? You worked it out for yourself. You told your own story about it.
It's hard to explain about games to non-gamers, because we have a way more evolved critical vocabulary for talking about books than we do about games. But they do something non-trivial to you. I've tried to reproduce some of the feelings games stir up in me in my writing — the sublime vistas of the Clan Wolf intro to MechWarrior 2; the way bodies decomposed and left little bleached skeletons in Command & Conquer, evoking a kind of Bergsonian awareness of the passage of time; the lumpy aerial topographies of Myth: the Fallen Lords; and on and on. A lot of Codex came out of stuff like this, and out of my experiences in the Quake modding scene in the late 1990's. The Neitherlands of The Magicians owes a lot to the destructible dream-scapes of the obscure Xbox import Otogi.
During one of the worst years of my life, I drew solace, as much as from any book, from regularly visiting the swamp level of Beyond Dark Castle, a video game for the Mac. You had a little helicopter-backpack, and you just motored over this desolate bayou throwing rocks at bats in the darkness and silence. There was a sense of stillness and peace there that I still refer back to in my head.
(If you landed on the jetty at the end, and didn't move, nothing would attack you, and you could just stand there and take in the ambience.)
Then there's a recent game like Portal 2 (I'm just plucking examples out of the ether here). I played through it a few weeks ago. Look at the tightness of the plotting, the economy and discipline and humor and sharpness with which they sketch out the characters. These are things we usually look to novels for. But by those standards Portal 2 is the best novel I've read this year.
The opposition between books and games feels fake —  like something built up by people who either don't read or don't game. I know there are other fiction writers out there who game. My brother for one (he actually designs games in his copious spare time). Tom Bissell. Iain Banks. Hm. Anybody else?