Thursday, June 23rd, 2011
An Interview with the Cartographer: The Making of the Magician King Map
Roland Chambers is the author of two excellent books that are excellent in very different ways: one is a children's book called The Rooftop Rocket Party, and the other is a biography of Arthur Ransome called The Last Englishman.
He is also a dear friend of mine. He's also the fellow who made the gorgeous, full-color maps for The Magicians and The Magician King. (You can see them here and here.) Here's a close-up of one of the details he did for the Magician King map: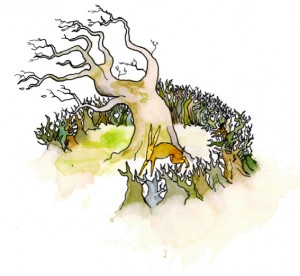 So beautiful. How does he work? He does one make a map for a fantasy novel? Let's find out. Over Gmail chat!
me: is now good?
Roland: yes fine
me: OK, we're doing this. question one: how'd you learn to be an illustrator? art classes? self-taught? pact w/ the devil?
Roland: I doodled a lot at school, that was about it. I wish I'd gone to art school though. Sometimes.
me: Did you have particular illustrators whose stuff you liked, and wanted to emulate?
Roland: Yeah. The first illustrations I really liked were the ones in the D&D Monster Manual and the one with the gods and demi-gods. They were amazingly cool to me at the age of 10 or 11, though it meant all my figures had ridiculously narrow waists and usually wore helmets, which meant I was a late starter on faces. Next up was Gerald Scarf, because he was insanely good at faces, well at everything really. He could turn anything into anything else – Enoch Powell for example (a racist British politician) as a fluttering Union Jack. Amazing. But I could go quite a long time reeling off people I admire.
me: I had some very un-sacred feelings about some of those demi-goddesses.

Roland: Yeah me too. They were hot, but not as hot as 2000 AD's Judge Andersen in her neoprene judge suit.
me: So how did you get started doing the map for Magician King? What's the first step?
Roland: Your book you clutz. It's brilliant – loads of very sharp pictures, lots of story. So I read it and made a list of what I felt were the critical geographic moments, starting with the hare in the clearing. There was something uncanny about that I loved – the invisible storm.
me: Sorry — what? I was preening.
Roland: neopreening
Can you write a story with Judge A in it?
me: In truth, I know not who that is. Only judges I know are the Dredd kind, citizen. [Obvs, I'm showing my ignorance, since a little Googling turns up the fact that Judge Andersen started out as a Dredd sidekick]
Roland: Judge Andersen was a psi judge, which means she reads your mind, though when you're as hot as she is I imagine that gets rather repetitive …
me: all thoughtcrime, all the time
Roland: Yep, wall to wall
ear to ear
me: OK, but back to the map. So do you go from there to doing those little illustrations? I remember the first thing you sent me was that clock tree, waving in that storm…
Roland: Actually I think of the overall shape. Without the shape I find I'm a bit lost. With the first map, frankly, that was a bit random. Some wiggly lines for coast, a bit of a bulge here and there where required, and then fill it in with lots of goodies. This was different. Sea is emptier than land (the top of it anyhow) and your world is flat. So I wanted a really strong dramatic frame to build into and I went for that diagonal line shooting from Whitespire to the end of the world. I think it looks a little like a drawn bow, and that gives the thing tension and direction.
me: Aha, interesting. See this is why I don't do pictures. Did you have maps you use as models or inspiration — Narnia, Middle Earth, Earthsea? Or do you just get it out of your head?
Roland: I pretty much get it out of my head, though as I say, I get it first out of your head. You came up with this stuff. It's your fault. But once the lines are there, then it starts to have a life of its own and I get to feel it's mine a little too, that I'm building in a world that's in my own head. But when I come to think of it, that's what reading a really good book is like too. You feel like it's going on in your own head. Anyhow, the lines first, then small dramatic scenes, the hare and trees, the ship, the doldrums, and as they begin to come, I paint colour washes onto paper which I scan in and layer in PhotoShop to bleed into one another in interesting generic zithromax azithromycin 500 mg ways. I love PhotoShop. It blows me away how much you can do with it.
me: How much of a pain is it having to work around the fold in the middle of the map? [The maps always run spread across two pages, so you have to keep clear of the center line]
Roland: It isn't really. Once you've loaded up all your stuff you can shift it around on the screen without much trouble. Sometimes you forget, but you can reverse any messes. This, by the way, is why the old hands look down on PhotoShop. They like the total commitment sudden death quality of drawing and painting on one piece of paper.
me: It does have a certain existential purity about it.
Roland: Yes it does. Do you write longhand?
me: Fuck no.
Roland: Me neither.
me: I think the sloth was a particular triumph. Was she hard to draw?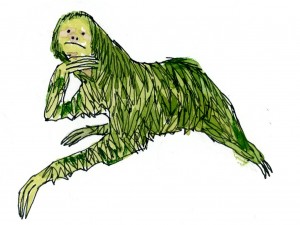 Roland: Thank you! Now it's my turn to preen. I spent ages on the sloth, which I guess is appropriate, mostly watching YouTube videos of sloths attempting cross the road with anxious humans standing by trying to stop them being flattened by trucks. These humans have to be fantastically patient, because it takes a sloth a very long time indeed to cross the road. They are amazingly improbable creatures and I found it really hard to get the feel of them. And frankly, I hate to admit this, I thought your sloth was a he.
me: Oh, she changed sex late in the game. That's why I don't write longhand.
Anyway she looks very slothy. Slothful. Slothic. Just perfect.
Roland: Smart move, but she's a wonderful character. You sort of think, why the sloth, and then, well, I don't want to ruin it for anybody. There's a lot more to a sloth than first meets the eye.
me: So what are you working on now? Any more illustration work in progress? Or focusing on the novel?
Roland: I've just designed a book cover for First Story, which is a charity I work for that puts writers into schools and publishes anthologies of the kids work. It's been a lot of fun. But mostly I'm writing my novel.
me: Any sloths in it?
Roland: I'm tempted. Can I ask you a couple of questions?
me: I suppose that's only fair. Fire away!
Roland: How much of your story occurs to you when your not writing it? Offline as it were…
me: Oh, all the big stuff. The bones of the skeleton arrive at odd moments, usually when I'm distracted enough to get out of my own way.
But then the little stuff comes up in the act of composition. That storm for example. When I first blocked out that scene in my head (it's all a take-off of the last scene in The Lion, the Witch and the Wardrobe), the clock-tree was just sitting there. When I was writing it I stopped and said, no. It's gotta be thrashing.
Roland: Yes, there are lots of homages in your books, but there's a very effective alchemy going on. It's all very much a Lev Grossman product. On the other hand, my next question was going to be, do you ever feel like Aslan singing Narnia into being? Don't be shy. Do you?
me: Oh God, it's nothing like that. It's more like placing cards on a house of cards, outside in a high wind, where it's all falling apart even as you're doing it. Very slow and painstaking. Like imagine if Aslan kept clearing his throat and saying, no, hang on, wrong key, and the tempo's off, and dammit, I've forgotten the words again.
Roland: Ha! Yes I love that image, and I guess maybe that's why you've made Ember a bit of a crumble bones.
me: I take my shots where I see'em
Roland: You see pretty good. Anyhow, I loved painting your map and I'm looking forward A LOT to doing the next one. Any hints?
me: Mmmmmm … I don't have much. Still waiting for most of the bones to arrive. But definitely more Brakebills this time. Back to school.
Roland: Ah yes the school. I know there's a little of Rowling and Le Guin in that school of yours, but do you like Mervin Peake too? Gormenghast? There's something in it of him too I think.
me: I have always believed and continue to believe that it is impossible to read the Gormenghast books. I find them incredibly difficult and dense. But yes, I know what you mean.
Roland: The trick is to be about 12 years old on a family holiday with nothing else to read. But when it gets you it gets you.
me: I think I may have missed my Gormenghast moment. I was probably reading Piers Anthony.