Tuesday, June 28th, 2011
Finished Books Arrive; An Author's Prayer
The first finished copy of The Magician King arrived today.
(It is impossible for me to experience this without thinking of the last scene in Back to the Future, where Marty McFly's dad gets his finished copies of A Match Made in Space.)
The book looks like this: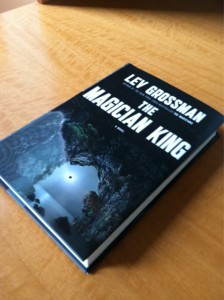 It's hard for me to believe it, but it's about to start making its way out into the world in that weird, furtive way that books do. Bookstores will accidentally sell it early, and copies will show up on eBay, and leak out from the warehouse and such. Then it's officially on sale August 9.
(And of course some people have been reading ARCs and galleys. If you've done this, remember the galley is not a finished draft. I know I say that too often. But that draft really is pretty rough compared to the real thing. The real thing is smooth, man. Or smoother anyway.)
And then feedback will start making its way back to me. Trade reviews, Amazon reviews, GoodReads ratings, sales data, over-the-transom e-mails. It's already starting.
You can get obsessed with that no prescription zithromax stuff. After all nobody gets all-good reviews. Not Neil Gaiman. Not Virginia Woolf. Nobody. If you look hard enough, you can always find somebody calling you a talentless hack on the Internet. The Magicians is a polarizing book. It takes chances. It pisses some people off. That's a choice I made when I wrote it. And The Magician King takes even more chances.
It's important to study the feedback, and learn from it, but that stuff must be handled with care. It can chew away at your inner Yggdrasil, like some kind of dark psychic Níðhöggr. This is not healthy for an author, particularly one with well-documented mood disorders.
When this starts to happen, I silently recite an author's prayer. It goes something like this:
The opinion of that one guy on the Internet, who spells his name in l33tspeak, does not determine the worth of your book.
OK, even those six guys — they don't determine its worth either. You don't even know who they are. They could be idiots. You could be glad they don't like your book. Maybe you would have been pissed if they did like it.
They probably didn't like Mrs. Dalloway either. They probably gave it one star too. And that book rocked.
So it shows to go ya.
And furthermore, you are not your book. It does not determine your personal worth. It is a part of your life, that you love and put your soul and a lot of other bits of you into, but come on. A bad review on the Internet. That's not a problem. You could be sick, or homeless, or heartbroken. Those are problems.
So get a grip. Shut down your computer — go on, I'll wait. Now go pick up your baby. Look at her! She thinks you're awesome. She's giving you, like, a five-star rating on Babyzon.
Whose opinion are you going to go with? Your perfect baby's? Or m0th3rtruck3r69's?
That's what I thought.