Monday, November 28th, 2011
Pure 100% Self-Promotion
Let's get this out of the way: my book was on The Simpsons!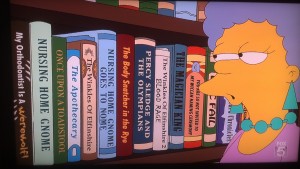 Now I've got Patty, I just have to crack Selma … somehow …
Also: if you're reading this blog, that automatically means you have to vote for my book for a Goodreads zithromax online prescription award. By Wednesday. It doesn't matter buy hydrocodone if you've already voted, this is the final round, so you have to vote again.
It's OK. Go ahead, I'll wait.