Saturday, November 19th, 2011
What Is Fantasy About?
I'm writing this from Miami, where I have come for the Miami Book Festival. Book touring brings me through Florida periodically, and I always have an excellent time there. But that has never been enough to erase my tragic associations with the Sunshine State, which stem from the time I came here when I was 8 and threw up on my grandmother's white couch.
You don't forget a thing like that.
I usually end up talking a lot about fantasy at events like this. And I've been thinking about it a lot, too, mostly in a desperate attempt to catch up with all the stuff I find myself saying about it.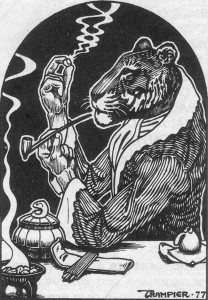 Because I cross the border a lot between "literary fiction" and "fantasy" (just assume infinite recursive scare quotes around every word for the rest of this post) I often find myself having to try to explain fantasy to audiences of non-fantasy readers who have unexpectedly found themselves in a room with a dude who is reading to them about people casting spells. Once the reading is over, and they are given leave to speak, they sometimes ask me: what is the deal, yo, with this stuff you write about people casting spells and shit? I mean, my child/niece/sibling/spouse is into this shit, but I don't get it.
That is a good question. It's hard to put into words what the deal is with fantasy – to say, in a coherent way, what all this stuff is about.
Science fiction is different. It's much easier to theorize, or at any rate it's been much better-theorized. Science fiction has known preoccupations. With technology for example, and our interactions with it — are we becoming the tools of our tools, sort of thing. With contemporary socio-politico-economic trends, which can be exaggerated to form interesting possible futures. With the future itself, and myths of progress. With the Other, and contact with same.
Fantasy, though.
Something is up with fantasy – I feel like the zeitgeist is taking an interest in it. Like the Great Lidless Eye of Sauron, the zeitgeist has turned away from the big science fiction franchises of the 1990s (Star Wars, Star Trek, The Matrix, The X-Files) and swung towards big fantasy franchises instead (Harry Potter, The Lord of the Rings, Twilight, True Blood, Game of Thrones). [We're generalizing glibly here, I know there are a lot of counterexamples (cough, Hunger Games, cough), and I do not repeat not want to get in a big wrangle over whether or not Twilight is fantasy — sorry. Just go with it for a bit.]

But what is the Great Eye seeking? What questions does it have that fantasy answers? Or at least asks? Like I said, I get asked this periodically, in public, and it's a hard question to answer. Probably impossible.
Though one place to start is with longing. It's something fantasy does especially well. Lewis and Tolkien were virtuosos of longing. They had, after all, lost a world, the world of their Victorian childhoods, which had been erased by the calamities of the 20th century: automobiles, the electrification of cities, the rise of mass media, psychoanalysis, mechanized warfare. They lived through, if not a singularity, then a pretty serious historical inflection point, and they longed for that pre-inflected world.
(Laura Miller writes about this really compellingly, albeit somewhat differently, in The Magician's Book, her excellent book about Narnia. She quotes Lewis on his special notion of Joy: "an unsatisfied desire that is itself more desirable than another satisfaction.")
We too have lived through an inflection point: a great deal of technological and social change. We can lay claim to a certain amount of longing.
Longing for what exactly? A different kind of world. A world that makes more sense – not logical sense, but psychological sense. We're surrounded by objects that we don't understand. Like iPods — they're typical. They're gorgeous, but they're also really alienating. You can't open them. You can't hack them. You don't even really know how they work, or how they're made, or who made them. Their form is abstractly beautiful, but it has nothing to do with their function. We really like them, but it's somehow not a liking that makes us feel especially good.
The worlds that fantasy depicts are very different from that. They tend to be rural and low-tech. The people in a fantasy world tend to be connected to it — they understand it, they belong in it. People in Narnia don't long for some other world (except when they long for Aslan's Land, which I always found unsettling). They're in sync with it. (iPods and Macs kind of mock us, don't they, the way they're always sync-ing with each other but never with us.)
Viagra Generic (as well as the other derivatives of Tadalafil or Sildenafil) is old-fashioned. I have read it on one website, but I decided to look for the information on the other sites, and found a good page " viagragener.com"and realized that Viagra was a drug number one.
To be sure, fantasy worlds are often animated by weird mysterious forces – like magic – but even those forces on some level come from inside us. They're not made in China. They express deep human wishes and primal emotions. Likewise the worlds of fantasy are inhabited by demons and monsters, but only because we're inhabited by monsters, the ones that live in our subconsciouses (subconsci?) Those monsters are grotesque and not-human, and sometimes they even destroy us, but we recognize them instinctively.
This longing for a world to which we're connected – and not connected Zuckerberg-style, but really connected, like a dryad with its tree – surfaces in a lot of places these days, not just in fantasy. You see it in the whole crafting movement – the Etsy/Makerfaire movement. You see it in the artisanal food movement. And it you see it in fantasy.
Or at least, it surfaces in the fantasy I write. Other people's fantasy is probably about lots of other stuff, and I shouldn't go around theorizing about it, except that I occasionally get asked to and, weakly, I give in. That's the problem with trying to lock fantasy down with theories: you never get it all, and you end up with something that's sadly reduced. Fantasy doesn't flourish in theoretical captivity. Still: that's what I tend to say when people ask me.
Though what I really want to say is, why even ask? I mean come on: Dudes. Casting. Spells. That is all ye know on Earth, and all ye need to know.