Thursday, July 25th, 2013
A Requiem for My First Novel
More and more often these days I find myself fielding questions about my first novel, so I thought I'd do a quick post here to clear up any mysteries about it, if any there be.
To the extent that I can. I myself am not a 100% reliable witness on this painful topic.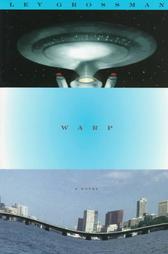 In case you have no idea what I'm talking about: the ALSO BY LEV GROSSMAN pages in the Magicians books list my first novel as Codex, but as people somehow keep noticing, that's not strictly true. There was in fact one before that. It was called Warp, and it was published in (I think) 1997 by St. Martin's Press. It wasn't so much my first novel as my zeroth novel.
It was a very small novel. I was paid (I think) $6,000 for it. They printed maybe 1,500 copies. As low as that number is it was still, from an overall sales perspective, much too high.
I'm really not being deliberately vague when I say that I don't remember very much about Warp. I haven't reread it since it came out. I do remember that it was a very first-novel-y first novel, in that it was an autobiographical story about an aimless young man who was mildly depressed for no particular reason. It was based on my lost years in my 20s, and modeled on Douglas Coupland's Generation X and the Richard Linklater film Slacker, and maybe also on Flann O'Brien's amazing At Swim-Two-Birds.
My added twist was that my characters would do even less than those characters did, and have even less fun doing it. Yes. That's what I brought to the table.
The other innovation was that the main zithromax online cheap character was obsessed with pop culture, especially Star Trek, and the narrative was broken up by the various snippets and stories that floated through the narrator's head while he was doing what ever he was (or, usually, wasn't) doing.
The book was not what you'd call a blockbuster debut. It actually got some decent reviews, but it never caught on with booksellers or readers. The truth is I wasn't ready to write a novel then, but I wanted to so desperately that I just kind of forced it to happen. I made the mistake, which I think a lot of young writers make, of trying to write about myself, on the theory that that's what I knew best. But what I didn't get was that at that time in my life I knew next to nothing about myself at all. I knew hardly anything about anything, but if there's one thing I was really and truly totally ignorant of, it was me.
Fortunately at the time I was also pretty naive about the book business. I didn't even know enough to see what a flop Warp was, so I wasn't as crushed as I probably should have been, and I just went right on to the next project. If you're curious about Warp, copies are certainly findable. I personally am sitting, almost literally, on a cache of several hundred of them.
But before you read it, ask yourself this simple question: have I read Moby-Dick? Have I read Madame Bovary? Mrs. Dalloway? Because those books are much, much better than Warp. If you haven't, I'd read those first.