"thoughts"
Friday, July 29th, 2011
I don't know whether I've ever produced more words, just by volume, than I've done in the past two weeks. Essays, interviews, journalism, radio, etc. etc. I am a processor of words.
It's all part of the process of "launching" a "book," which is a weirdly abstract though not unenjoyable activity. Sometimes you wish you could just smash a bottle of champagne over it and say, there, done, launched. I have a doc in my Google docs, prepared for me by Viking, that lists all the Magician King-related things I'm doing over the next month. It's 22 pages long.
I also have another doc listing the things I'm doing that I haven't told them about.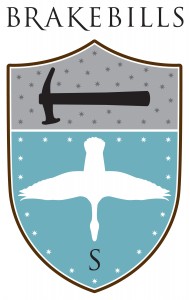 [The above image — it's a Brakebills South crest — is one of a whole slew of Magicians-related designs done by an absolutely brilliant DC-based artist named Amy Billingham. It's all going into the CafePress store…]
It's work. I've become that guy who brings his MacBook Air on the subway to grab some extra writing time on the way to and from the office. But it's the kind of work you want. It's the kind of work I fantasized generic zithromax cost about having to do when I was 20, Snoopy-style — "here's the world-famous author … " This while lying on the roof of my doghouse.
What else? I spent last weekend at Comic-Con. I don't exactly enjoy Comic-Con as such. When I'm there I'm there to work, and while I'm there, I'm always working. But I do get to see people I don't see anywhere else. Random House gave a party on Thursday night, and if you stood at the bar — and I did — you could take in, without turning your head, George R.R. Martin, Patrick Rothfuss, David Anthony Durham, Christopher Paolini, Scott Westerfeld and Charles Yu. Among others.
And Christopher Paolini was riding a mechanical bull.
Reviews and other mentions of The Magician King have been popping up online. So far the response has been … pretty great. But I'm spazzy about this stuff, and I'm mostly not reading them. I killed the Google Alert I used to have on myself two years ago. I don't need any more information about myself. I get more than enough of that just by being me.