Posts Tagged 'baby'
Monday, June 28th, 2010
I didn't think I'd do a blog post this soon after the baby came. But I forgot that part of being a dad is finding ways to amuse yourself while your newborn sleeps off her milk coma and your wife sleeps off her regular coma-coma.
Fortunately solitary amusement is a core piece of the nerd skillset.
Halcyon Harriet Graham Grossman was born on Sunday morning, June 27, at dawn. She came in a big hurry — Sophie's water broke at home, and the baby came about four hours later — which meant that I got to do the thing that all expectant fathers dream of, which is drive really fast through New York City in the middle of the night with my laboring wife in the back seat yelling at me to go faster.
My years of "wasted" time playing Midnight Club and Burnout paid off bigtime.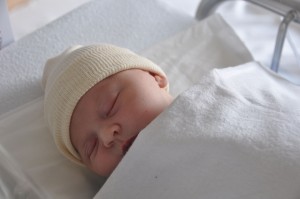 Though it turns out drifting round corners doesn't give you a power boost in real life. And when I successfully completed the course my seven-year-old VW Passat station wagon was not upgraded to a fancy new car.
I did get a fancy new baby though.