Posts Tagged 'forbidden pickles'
Monday, August 2nd, 2010
Currently I am working full-time, plus writing the sequel to The Magicians, and doing night feedings for a 5-week old baby. So until further notice my status is and will remain: BONED.
(Also I'm writing an introduction to Cat Valente's upcoming story collection Ventriloquism. When this book arrives it will destroy you. It is going to change things. As its herald I will be spared. But you? There is no safe harbor for you.)
But I do want to keep posting things once in a while. Like this.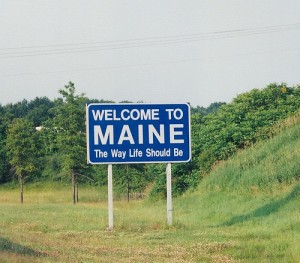 Back in the day I did a few commentaries for NPR's All Things Considered. It was fun but really labor-intensive, and it eventually emerged that I was sort of crap at thinking of ideas for them. So that gig kind of tapered off.
I originally wrote the following story as an All Things Considered piece, which they rejected. After that I submitted it to the New York Times Magazine's Lives column. Where it was also rejected.
Finally I have found somewhere that would not reject it: this blog.
(This story also appears in The Magicians, as Penny's unfortunate adventure in Oslo, ME. But it's all true. Here goes.)
As a young man I was curious about where novels came from, so in the interests of literature I conducted a horrible experiment on myself. I purchased a 1985 Subaru GL, herb green, and set out Westward, with a capital W, from Cambridge, Mass., where I had graduated from college that spring.
It was September, 1991. My plan was to find a small town, some dot on a map in some large, squarish state, and really get to know myself. I would rent a room, get a job jerking soda, date a lonely, lovely librarian, and Write. Also with a capital W.
I should have known things were going wrong when I set out West from Massachusetts and ended up in Maine, but have you ever noticed what a monstrously wide state Pennsylvania is? It's like climbing an escalator the wrong way, it just keeps on going forever. So like a swimmer trying to escape a rip tide, I turned perpendicular to it and drove north instead.
The town I ended up in was a few miles south of Bangor — it is, almost literally, where Stephen King novels take place. My first few weeks there were spent living not in a rented room, because rented rooms require money, which I didn't have very much of, but in my car. I shaved in the bathrooms of diners, and I showered — well, I didn't do a whole lot of showering. Eventually I found a room in a farmhouse owned by a retired schoolteacher.