Posts Tagged 'halcyon'
Monday, September 5th, 2011
"Anything you can't cope with is therefore your own problem" – Trillian, a.k.a. Tricia McMillan, in The Hitchhiker's Guide to the Galaxy
I'm back from tour. The Infinite Improbability Drive is off or at least idling. The list of things I can't cope with is still worryingly long.
A word about tour. Tour was great. Actually it was amazing. There was a whole new vibe out there. When I went on tour for the paperback version of The Magicians, I saw maybe twice as many people as had come out for the hardcover version. Something had changed. But this time something had really changed. This time I got, like, 5-10 times as many people as for the paperback. Let me tell you, that means a lot to a writer.
(Also increasing: the amount of e-mail I get. I'm really, really sorry I'm so crap about answering it. The math of it is all wrong: the busier I get, the more e-mail I get, and the less time I have to answer it. It should work the other way.)
I was also surprised by how tough the tour was on me and my family — my being away for that long. Sophie has to pick up a lot of slack when I'm away, and it's not like she doesn't have her own professional gigs to deal where can i order zithromax with. It's tough to strike a balance. I don't how much it bothers Halcyon, who's 1 and therefore still kind of one with the universe in that way that babies are. But Lily (7) basically welded herself to my leg the minute I got home and refused to let go. And I knew how she felt. Maybe I'll take her with me next time.
I'm not going to do a big roundup of the reviews. Google will do a better job than I will, and it gets paid more than I do. Suffice to say that they've been good! And that it's been interesting watching reviewers and their reviewing organs try to decide whether The Magician King is literature or fantasy or art or entertainment or trash or whatever. (Correct answer is: yes.) Though I will cop to being happy that The New Yorker, that pillar of literary culture, did a short but nice review (this link is pointless unless you subscribe to the magazine, in which case it's pointless anyway. Sorry.)
And now onwards and upwards! Or at least energetically sideways! There are more projects in the works, which I'll announce when I can. I have plans for a third and probably final Magicians book. I know how it starts and how it ends, and a certain amount about the middle bits. Damn those middle bits.
Monday, June 28th, 2010
I didn't think I'd do a blog post this soon after the baby came. But I forgot that part of being a dad is finding ways to amuse yourself while your newborn sleeps off her milk coma and your wife sleeps off her regular coma-coma.
Fortunately solitary amusement is a core piece of the nerd skillset.
Halcyon Harriet Graham Grossman was born on Sunday morning, June 27, at dawn. She came in a big hurry — Sophie's water broke at home, and the baby came about four hours later — which meant that I got to do the thing that all expectant fathers dream of, which is drive really fast through New York City in the middle of the night with my laboring wife in the back seat yelling at me to go faster.
My years of "wasted" time playing Midnight Club and Burnout paid off bigtime.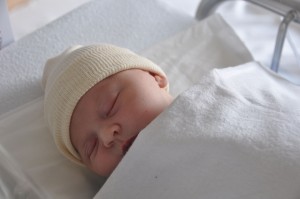 Though it turns out drifting round corners doesn't give you a power boost in real life. And when I successfully completed the course my seven-year-old VW Passat station wagon was not upgraded to a fancy new car.
I did get a fancy new baby though.