Posts Tagged 'Jimmy Jim-Jim fils'
Thursday, December 23rd, 2010
Not everyone who reads this blog may know this, but there's actually an informational newsletter for Magicians fans that goes out three times a year.
Or at least, it went out three times this year. The first year of its existence.
So if you read this blog, and follow me on Twitter, and like my page on Facebook, and yet you still wake up at night thinking, how can my life be full of more information about Lev Grossman, his works and days? Then sign up here!!!
Now that I've just sent out the latest issue, like, seconds ago, I've already thought of a few things I got wrong and/or left out of it.
Like for example, when I started it, I realize now that I said it was going to come out four times a year. Not three. So now I have my New Year's resolution.
I also said that as a special bonus, subscribers would receive a vanishingly rare, painfully intimate photo of me from high school, when I still had hair. That was before I realized that I couldn't figure out how to attach a file to a MailChimp newsletter, if that's even possible, and not only that, I was too lazy even to figure out how to embed an image in one. So here you go: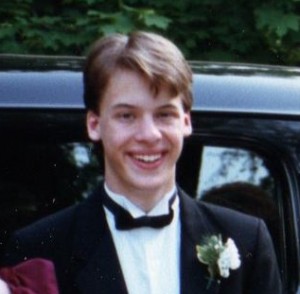 That's my prom date's burgundy ruffle there in the lower left hand corner.