Posts Tagged 'metric'
Friday, June 29th, 2012
OK! I've been home for a week and a half now. I'm starting to recognize my kids on sight instead of just snapping my fingers and pointing. Screw this. I'm going back on the road.
This time: Florida. I'm reading in Miami on July 11th, then I'm spending the rest of the week at Ascendio, the Harry Potter conference in Orlando.
This means that, for the first time in four years, I won't be going to Comic-Con in San Diego this summer, because they're the same weekend. Which was a tricky choice. But love it or hate it — I do both — bottom line, Comic-Con isn't really about authors. It's about directors, actors, screenwriters, comics artists, costume designers, animators, and people who design disposable novelty tote bags. After that, it's about authors. As a novelist at Comic-Con you kind of have to fight for oxygen.
I needed a break from that. I mean, I knowingly signed on for it: fighting for oxygen is what novelists do. But sometimes it's nice to go to a convention that's about books first, where everybody is glad you're there just because you're a writer. Ascendio is such a conference, and I am stoked for it. (LeakyCon, which I'll be at in August, is another such conference. So is Readercon, which unfortunately is the same weekend as Ascendio.)
As soon as I get back I'm on for a couple more events in New York City: a conversation with G. Willow Wilson on July 17, and a conversation with Erin Morgenstern on July 18th. Both of those evenings will be deeply awesome. As regular visitors to this blog know, I have a habit of getting onstage with people who are smarter than me. I'll be happily continuing that grand tradition.
I have nothing else to add except that Metric's Synthetica is, like, destroying me with its goodness right now.
Friday, August 19th, 2011
Greetings from Reno, Nevada. I'm here for WorldCon. It's incredibly hot here. The kind of heat that kind of weighs on your head, like as if masses of photons are literally pounding down on you. The kind of heat that makes you think,  I am not evolved for this shit.
OK, Google says it's only 88. But I'm telling you, it feels hot.
I have been reminded of the tour name. It is Gimme Welters. All credit for this great name to commenter Austin Wilson. In honor of the greatness of the name, the infinitely great Amy Billingham has created this official tour graphic: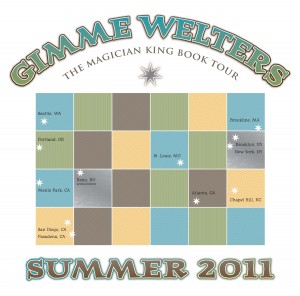 I know, right? I know!
(People have been asking me when the CafePress store is going to open. Soon. Seriously, I saw the final designs for it like five minutes ago.)
Now some things that need announcing:
— The Magician King will be number 8 on the New York Times bestseller list next week. As far as news goes, this goes in the good category
— Over at Largehearted Boy I wrote a (heavily annotated) playlist of the music I listened to while I wrote The Magician King. Topics covered include: Metric, Ravel, famous people who went to my high school, and the advertising jingle for Mercenaries 2.
— At Whatever — John Scalzi's blog — I wrote a mini-essay about The Big Idea of The Magician King. Yes, I dragged my mother into it.
— Finally at the Huffington Post I wrote a list of the greatest cocktails in literature.
As Brett Ashley would say: bung-o. If you're at WorldCon, I'm doing a literary beer at 3:00 today, and tomorrow at 2:00 I'm reading in room A-14. Then tomorrow night are the Hugo Awards. This is important because it's an excuse for me to wear my tuxedo.
Finally — and I put this to the commenters — I'm trying to decide whether to take an hour off from WorldCon and play some poker in the casino. I'm an avid home-game poker player, but I've never taken it to the card room. Because I'm not James Bond. Or am I? The tuxedo could come into play here too.