Posts Tagged 'my mother'
Friday, August 19th, 2011
Greetings from Reno, Nevada. I'm here for WorldCon. It's incredibly hot here. The kind of heat that kind of weighs on your head, like as if masses of photons are literally pounding down on you. The kind of heat that makes you think,  I am not evolved for this shit.
OK, Google says it's only 88. But I'm telling you, it feels hot.
I have been reminded of the tour name. It is Gimme Welters. All credit for this great name to commenter Austin Wilson. In honor of the greatness of the name, the infinitely great Amy Billingham has created this official tour graphic: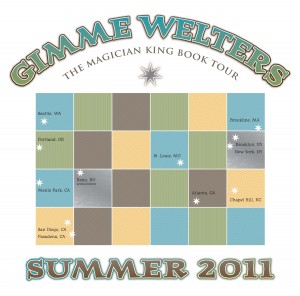 I know, right? I know!
(People have been asking me when the CafePress store is going to open. Soon. Seriously, I saw the final designs for it like five minutes ago.)
Now some things that need announcing:
— The Magician King will be number 8 on the New York Times bestseller list next week. As far as news goes, this goes in the good category
— Over at Largehearted Boy I wrote a (heavily annotated) playlist of the music I listened to while I wrote The Magician King. Topics covered include: Metric, Ravel, famous people who went to my high school, and the advertising jingle for Mercenaries 2.
— At Whatever — John Scalzi's blog — I wrote a mini-essay about The Big Idea of The Magician King. Yes, I dragged my mother into it.
— Finally at the Huffington Post I wrote a list of the greatest cocktails in literature.
As Brett Ashley would say: bung-o. If you're at WorldCon, I'm doing a literary beer at 3:00 today, and tomorrow at 2:00 I'm reading in room A-14. Then tomorrow night are the Hugo Awards. This is important because it's an excuse for me to wear my tuxedo.
Finally — and I put this to the commenters — I'm trying to decide whether to take an hour off from WorldCon and play some poker in the casino. I'm an avid home-game poker player, but I've never taken it to the card room. Because I'm not James Bond. Or am I? The tuxedo could come into play here too.