Posts Tagged 'Níðhöggr'
Tuesday, June 28th, 2011
The first finished copy of The Magician King arrived today.
(It is impossible for me to experience this without thinking of the last scene in Back to the Future, where Marty McFly's dad gets his finished copies of A Match Made in Space.)
The book looks like this: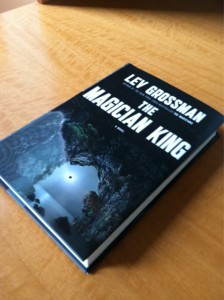 It's hard for me to believe it, but it's about to start making its way out into the world in that weird, furtive way that books do. Bookstores will accidentally sell it early, and copies will show up on eBay, and leak out from the warehouse and such. Then it's officially on sale August 9.
(And of course some people have been reading ARCs and galleys. If you've done this, remember the galley is not a finished draft. I know I say that too often. But that draft really is pretty rough compared to the real thing. The real thing is smooth, man. Or smoother anyway.)
And then feedback will start making its way back to me. Trade reviews, Amazon reviews, GoodReads ratings, sales data, over-the-transom e-mails. It's already starting.