Posts Tagged 'perry the platypus'
Friday, April 15th, 2011
Just stare into the mirror, and chant my name five times …
Nah, it's no good. I can't make a Candyman joke. It still freaks me out. It's too soon.
Sometimes people ask me if I'll come to their local bookstore for the Magician King tour. The answer is, I want to! But I have no control over which bookstores I go to, literally none.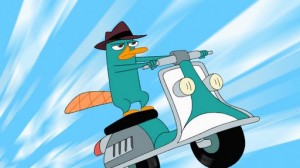 What happens is, bookstores that want me to come read put in a request to my publisher. My publisher — using an arcane algorithm worked out by Bret Easton Ellis in the mid-1980's — picks some of these, books airfare and hotels, then sends me an e-mail informing me that it has done so. Then I get on a plane. I'm like Perry the Platypus. I go where they send me.
And when I get there I smite evil and lay eggs. Even though I'm a mammal.
So I have no power. But you — you can insert yourself into this process. Suggest to your local bookstore that they request me for the Magician King tour. That can get the ball rolling.
Or you can try the chanting thing. It works for Candyman. Man, that guy has sold a lot of books.