Posts Tagged 'seriously get the hell out of my office'
Thursday, October 7th, 2010
It's coming. It's long and bone-chillingly confessional. It's almost here. But not yet.
The reason it's not here yet is that I'm working frantically on The Magician King. Some fun facts about this as-yet-unfinished book:
— It was due at the publisher six (6) days ago
— It is currently 105,850 words long. I would guess I've got somewhere between 35 and 40,000 words to go.
— I expect I'll have a decent draft by the end of October.
— I have suspended any attempts to control my caffeine intake during the month of October
— These days it is mostly getting written in this armchair: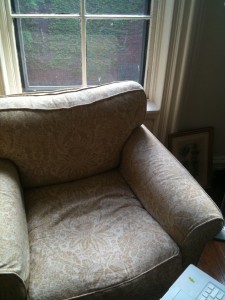 — On a good day work goes from about 10 in the morning to about 8 at night. That's a good day. What happens on a bad day? There are no bad days! Who are you? Get out of my office!
— Bands I'm listening to while I work on it include Metric, The Beta Band and Robyn Hitchcock and the Egyptians
— There is a small creature who lives in my house who actively sabotages work on my book. She looks like this: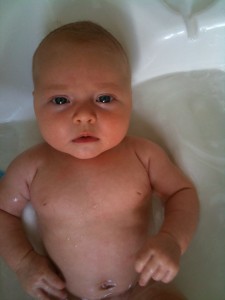 Scary, right?