Posts Tagged 'spiders'
Friday, April 18th, 2014
Remember when I said the book was done and locked? A couple of weeks ago Viking surprised me with a second set of page proofs to review, to make sure the changes I made to the first proofs went through OK.
So I marked those proofs up too and sent them back. I forgot that finishing a book has a bit of a Zeno's paradox feeling about it: the book is the arrow that can never reach its target.
But I think now it really is done. Or at least it's asymptotically approaching done-ness.
It's even getting reviewed, though so far only in what we call "the trades," meaning book-industry magazines like Publishers Weekly that cover books a couple of months before they come out. The feeling is unnerving—The Magician's Land still seems like an intimate part of me that I can't believe people are actually looking at. Reviews so far have been really great, which makes me happy. But still.
Meanwhile it's time to get the promotional apparatus up and shambling. (For some reason I picture it looking something like the giant steampunk spider in Wild zithromax generic brand Wild West.) A lot of people kind of lament the promotional part of being a novelist, but I don't really mind it. I've got a product to sell, I'm not going to pretend it's special just because it happens to be a novel.
I'm not very good at selling it. But I don't mind trying. Most of the time I actually enjoy it.
So my summer's filling up with events, most of which haven't been announced yet, and I'm probably not supposed to announce them here, so I won't. But I'll be popping up all over the place and then touring properly in August. For now I'll just mention something that's happening at Rutgers on May 1 that involves Catherynne Valente, so you know it's going to be quality.
And on May 31 I'll do a public conversation with Deborah Harkness in New York as part of BookCon. Again: quality.
And if you're anywhere near Brooklyn, scrawl August 5th on your calendar. That's the official pub date of The Magician's Land, and I'm planning an event that night that should be be a bit special.
Sunday, March 27th, 2011
I'm just back from a month in Australia, where it was summer, and the animals are all different. Seriously, they have sulfur-crested cockatoos and blue-tongued lizards and huntsman spiders just running around like it's no big thing.
Trust me, it's a big thing. Australians say huntsmen don't bite. Don't believe it. I heard them talking about it, they totally do.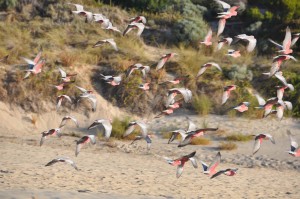 I went to Australia for the Perth Writers Festival, which was really terrific. Perth is one of the remotest major cities in the world, and you really feel like you're at the writer's festival at the end of the universe. (Prices are comparable to Milliways, because Perth, despite its remoteness, is a mining center and quite wealthy.) I got to sit next to Margo Lanagan onstage, which alone was worth flying 30 hours for.
(Movies watched on the flights to and from Australia: The King's purchase zithromax Speech, The American, Red, The Town, True Grit, Wall Street: Money Never Sleeps.)
Then we drove down to the Margaret River, which is one of Australian's wine regions. If you took a bunch of Hawaiian beaches and spot-welded them onto the Cotes du Rhone, that's what you'd get. If this place were any closer to civilization it would be mobbed. You taste wine all day, then you go and frolic in the Indian Ocean while dolphins swim by.
I was also in Australia because my wife is Australian, and we wanted to hang out with her family, in the city of her birth (Sydney, not Perth). Plus it's summer in Australia. And if we don't start exposing the baby to huntsman venom now, it will never built up an immunity.
Also: The Magician King will be out August 9. More on that in a bit.