Posts Tagged 'things we would rather not think about'
Thursday, July 25th, 2013
More and more often these days I find myself fielding questions about my first novel, so I thought I'd do a quick post here to clear up any mysteries about it, if any there be.
To the extent that I can. I myself am not a 100% reliable witness on this painful topic.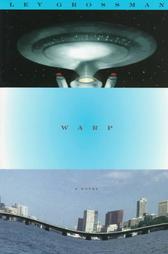 In case you have no idea what I'm talking about: the ALSO BY LEV GROSSMAN pages in the Magicians books list my first novel as Codex, but as people somehow keep noticing, that's not strictly true. There was in fact one before that. It was called Warp, and it was published in (I think) 1997 by St. Martin's Press. It wasn't so much my first novel as my zeroth novel.